This Difference Between makes me want to eat a bunch of cheese.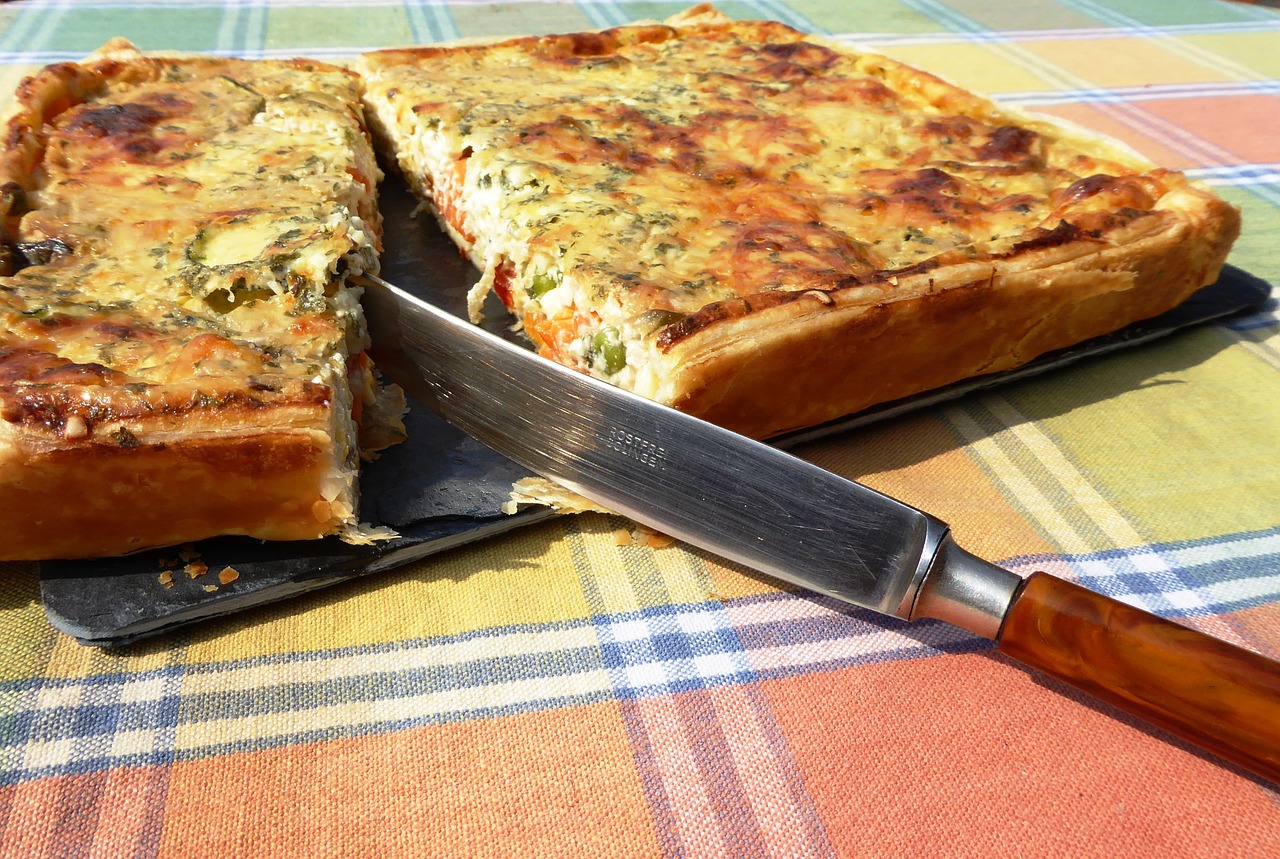 Let's begin with definitions from Dictionary.com:
Quiche: an open savory tart with a rich custard filling to which bacon, onion, cheese, etc, are added.
Souffle: a light baked dish made fluffy with beaten egg whites combined with egg yolks, white sauce, and fish, cheese, or other ingredients; a similar dish made with juices, chocolate, vanilla, etc.
Frittata: an Italian dish made with eggs and chopped vegetables or meat, resembling a flat, thick omelette.
Cheese and eggs seem to be the two main ingredients we're looking at here.
According to EHow.com, the most common type of souffle is a chocolate souffle; clearly, this could not be confused with a quiche or frittata of any kind. Therefore, for argument's sake here, going forward we'll assume souffles to be cheese souffles, and not those of the dessert variety.
Similarly, the one aspect of a quiche that really makes it stand out from a souffle or frittata is the crust; however, as CookingClarified.com points out, quiches often have crust, but not always. In fact, I prefer mine crustless.
Therefore, it is really the difference between a crustless, cheese quiche, and a cheese souffle that we're looking at, here.
EHow.com explains that a "cheese quiche is another alternative to a cheese souffle. The souffle could be made from eggs, milk, parsley, flour, salt, pepper, nutmeg, and cheese. In comparison, the simple cheese quiche could be made from eggs, cream, cheese, salt, pepper, and nutmeg. Both are baked dishes."
Wow, that seems like. . .almost exactly the same thing. The primary difference is milk in the souffle, and cream in the quiche. However, CookingClarified.com believes that frittatas have very little, if any, milk or cream.
Furthermore, frittatas are more omelette-like than the other two. They're cooked first on the stove, and then finished in the oven or broiler, while both quiches and souffles are typically cooked in the oven only.
Quiches, souffles, and frittatas are all egg and cheese-based (except for the desert souffles), and all can include vegetables, meats, seafood, and/or herbs. Bacon seems to only be mentioned with quiche and frittatas.
The main difference we have not yet touched upon is that a souffle is more puffy, or fluffy, than a quiche or frittata; there is that fear of allowing it to "collapse" in the oven, thus loosing its puffyness.
Quiche:
Typically made with eggs, cheese, and cream.
Typically has a crust, or some sort of pastry base.
Is pie-shaped.
Is cooked in the oven.
(Cheese) souffle:
Typically made with eggs, cheese, and milk.
Is often a form of dessert.
Is made with a specific souffle mold.
Is cooked in the oven.
Has an important puff factor.
Frittata:
Typically made with eggs and cheese.
Typically has little or no cream or milk.
Is pie-shaped.
Is cooked on the stovetop, then finished in the oven.
And, in case you were wondering, a frittata is thicker and cooked slower than an omelette. According to Delallo.com, a frittata has the eggs and other ingredients mixed together and cooked slowly, where as with an omelette you cook the eggs first, then throw the toppings in afterwards.