It was requested of me to do a Jamón Serrano versus prosciutto post, but in doing my research, I discovered there's actually another subcategory of Jamón besides Serrano we'll have to delve into.
In short, the difference between Jamón and prosciutto is really the difference between Spanish cured ham and Italian cured ham.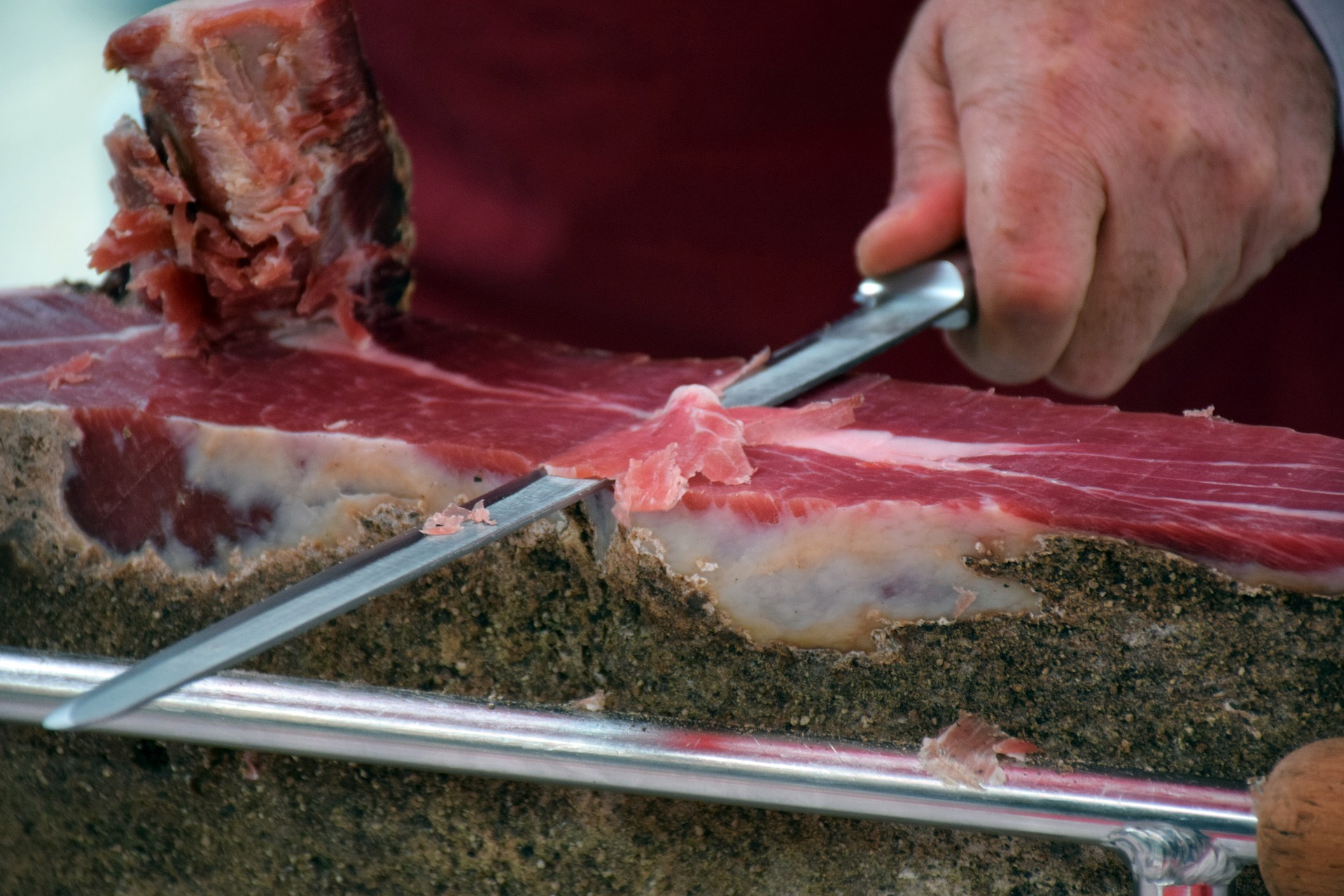 Let's actually start with prosciutto, which is a bit simpler.
Prosciutto is the Italian word for "ham." We've investigated prosciutto before in the difference between pancetta and prosciutto.
Prosciutto:
Comes from a pig or a wild boar.
Is aged 9 months to 2 years.
Is Italian.
The most famous prosciutto is likely the Prosciutto di Parma.
Must come from Large White, Landrance, or Duroc breeds of pigs.
The pigs are raised on approved breeding farms, located within a certain radius in central, northern Italy.
The pigs eat grains, cereal, and whey.
They're slaughtered at 9 months or older (compared to other prosciuttos where they can be slaughtered at just 6 months).
Spaniards have been producing dry-cured hams for centuries, using climate-controlled curing rooms strategically located in the mountains. Reportedly, the ham is able to experience all the seasons, with the mountainous air lending something special to the flavor.
There are two main types of Jamón-style ham:
Jamón Iberico:
Is considered the finest of hams.
Can be very expensive (up to hundreds of dollars per pound).
The meat is very dark, with very little fat.
Only comes from black Iberico pigs.
The pigs almost only eat acorns, from Holm Oats, Gall Oaks, and Cork Oak trees.
Is cured for at least 36 months.
Jamón Serrano:
Comes from Landrace white pigs.
Is more common and less expensive than the Iberico.
Is cured for 18 to 24 months.
It is also worth mentioning – when looking at the difference between Jamón and prosciutto, since ham-curing is a centuries-old, artisanal practice, various businesses will have their own traditions and procedures, all of which can affect the overall flavor and end product.
In conclusion, Jamón hails from Spain; prosciutto, Italy. Jamón comes from a specific breed of pigs, who eat a specific diet, and is usually cured for longer, leading to a less moist, but still super flavorful taste.
Prosciutto comes from a wider range of pigs – or even boars – who have a broad, less restrictive diet. Prosciutto has a smooth and slightly salty flavor.
It's also worth mentioning – the folks who produce and cure these hams likely consider it an art form, as they use their own techniques and procedures developed from their ancestors, which will of course affect how the finished product tastes.
Interestingly, in a taste test by the reputable Serious Eats, Prosciutto di Parma won out against Jamón Serrano, and other hams.