This is a guest blog post written by Joe Legault.
Back in 2001, everyone's new favorite animated donkey, Donkey (from Shrek), said the famous line, "We can stay up late, swapping manly stories, and in the morning, I'm making waffles!" But we never really found out if those waffles were manly waffles, special fairy tale waffles, or just plain old waffles.

Not all waffles are the same, and two of the most popular types in North America are the Belgian waffle and the regular waffle. Let's take a look at the key differences between these waffles.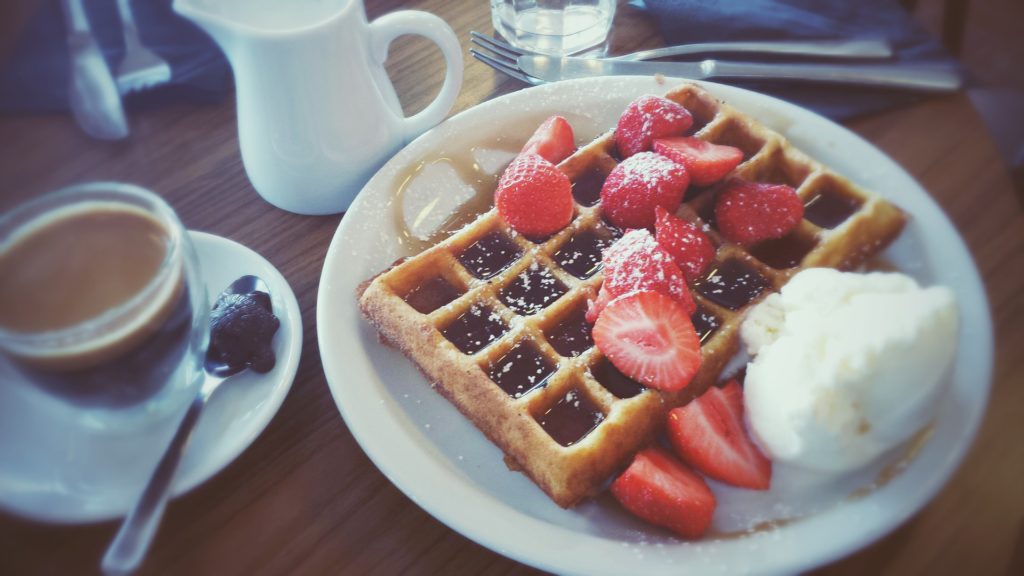 Definitions
Belgian Waffle: a waffle having large depressions that is usually topped with fruit and whipped cream
Waffle: a crisp cake of batter baked in a waffle iron
These basic definitions reveal that Belgian waffles are a waffle variation. Like other waffles, they are baked in a waffle iron, but the batter, size, and texture of Belgian waffles are unique.
A Little History
The "recipe" for regular waffles came first, but Belgian waffles have grown in popularity since the 20th century. It's believed that regular waffles were made during the Middle Ages as a water and flour mixture that was pressed between two iron plates and heated into flat cakes. By the 15th century, the waffle had evolved to become doughier and featured its recognizable grid pattern.

In the 18th to 19th centuries, two variations of the waffle were created in Belgium: the Brussels waffle and the Liège waffle. While the Brussels waffle is light and crispy with large pockets, the Liège waffle is dense, sweet, and chewy. The Belgian waffle is a more simplified version of the Brussels waffle, and it was introduced to North America in 1962 by a Belgian named Maurice Vermersch.
What's So Special About Belgian Waffles?
The main difference between Belgian waffles and regular waffles lies in the recipe. Regular waffles are made with baking powder, which makes them dense and thin. Belgian waffles are made with a yeast batter, which makes them crispy on the outside and soft and fluffy on the inside. Belgian waffles are also baked in a larger waffle iron with deep grids that allow for thick waffles.

Due to their crispy exterior and large depressions, Belgian waffles are ideal when you want to load them up with strawberries, maple syrup, ice cream, or even chocolate syrup.
When Can I Get a Belgian Waffle?
Belgian waffles are a popular menu item in restaurants, both for breakfast and dessert. Today they are commonly made with a small quantity of baking powder as well as yeast, but you can always expect the same crunch on the outside and soft texture on the inside.
Sources: