Honeycrisp and Fuji apples both have higher amounts of sugar in them than other apples, making them intensely sweet. The sweetness in conjunction with that perfect, crisp crunch makes for one darn good eating apple.
Let's check out the difference betweeen Honeycrisp and Fuji, and if they're good baking apples as well.
We're also going to examine why Honeycrisp apples are so darn pricey.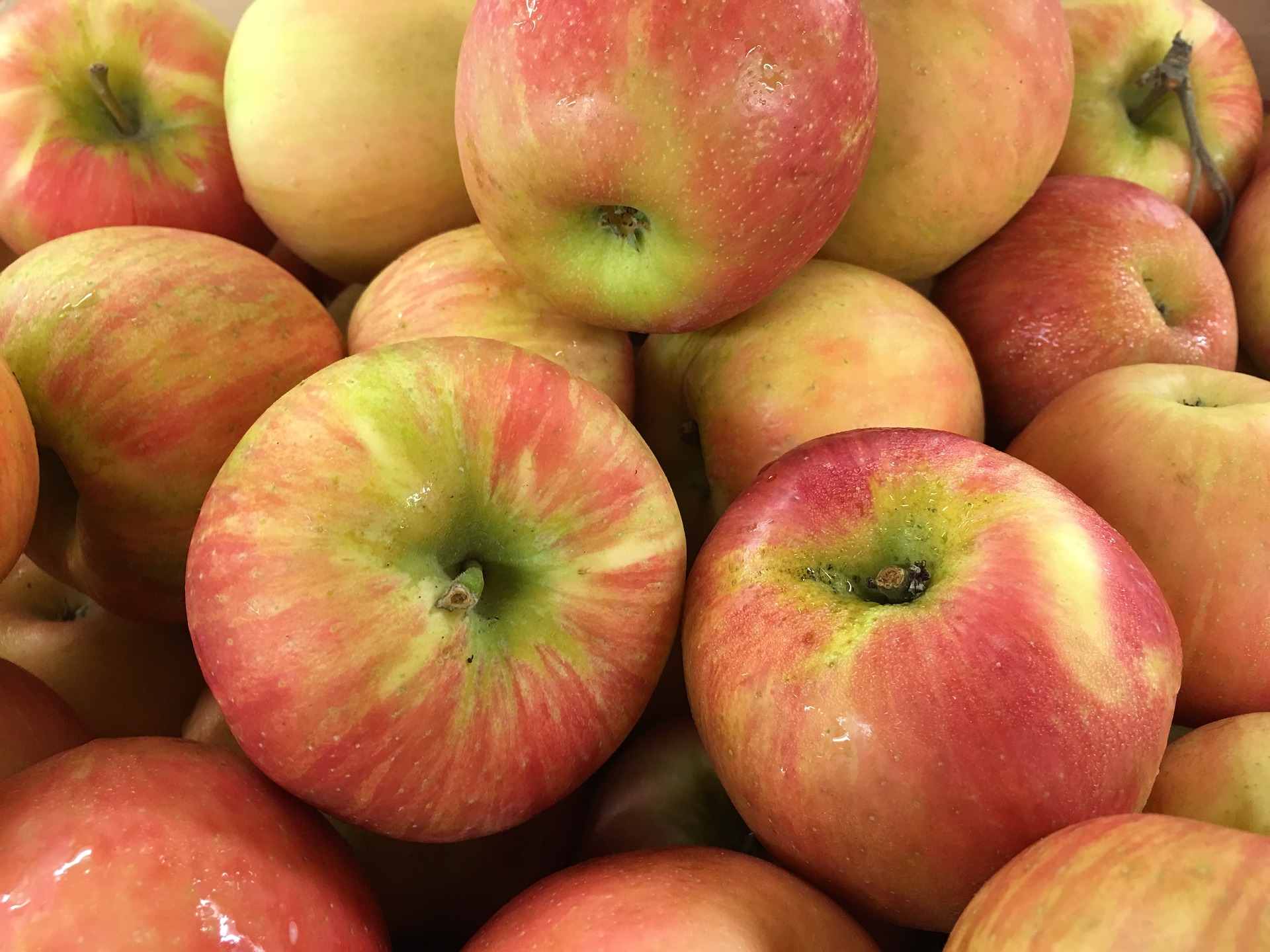 Honeycrisp apples:
Season is in September.
Are arguably the most popular apple variety.
Their cells are twice as large as those of other apples.
Are very sweet and juicy.
Have a vivid red color over yellow/green skin.
Have cream colored flesh.
Uses – best for eating fresh and apple juice; decent for cooking, applesauce, apple pie, and apple butter.
Honeycrisp apple trees:
Are not self-fruitful.
Prefer colder climates with full sun.
Need adequate air circulation to pollinate.
Are more problematic than other apple trees.
Are susceptible to: mildew, cedar apple rust, bitter pit, scab, scale, and fire blight.
Are also susceptible to codling moths, leafrollers, and aphid infestations.
Remember how we mentioned how expensive Honeycrisps are? As you can now see, one of those reasons is because the trees are a pain in the butt to keep thriving.
Side note: I have recently been purchasing organic Honeycrisp apples at the Fresh Market. Not only are they Honeycrisp, but they're organic. At $4.99 per pound, they're over twice the cost of other apple varieties, which tend to be a $1.00 and change per pound.
I don't mind buying organic apples, because apples have the highest pesticide residue of any produce item. After reading about Honeycrisp apple trees, I would imagine that growers must use high amounts of pesticides in order to combat all those potential insect infestations.
So. Consider organic! (Sometimes.)
Honeycrisp apples have a bit more of an interesting history than some others.
They were created by the University of Minnesota apple breeding program in 1960. Initially, they were thought to be a cross between Macoun and Honeygold. Years later, after genetic testing, it was discovered that this was untrue. In fact, one parent was Keepsake – also developed by the University – and the other parent is still unknown.
According to ScienceBuzz.org, "The University Research Center routinely crosses and plants thousands of seeds annually, moving them and the resulting seedling trees from place to place over a period of years, so there are multiple points where a mix-up could take place."
Indeed, I have noticed it is not uncommon for researchers to be unable to determine the parentage of apples.
At the time it was developed, Honeycrisp was known as MN 1711. The new apple was tested at a number of locations in Minnesota, Michigan, and at the Cornell Research Station in Geneva, New York.
In 1982, researcher Dave Bedford rediscovered the tree, which apparently had been labeled for discarding. In 1988, a patent was acquired , and in 1991, the newly named Honeycrisp apple was ready for commercial production.
Honeycrisp apples were created from traditional cross pollination; they are not a genetic mutation. Therefore it is considered a cultivar and not a sport.
The patent for Honeycrisp expired quietly in 2008, having little if any effect on the sale of the apple – which by the way, does exponentially well. People flock to buy Honeycrisp apples.
The royalties from the apple patent was split three ways: one-third to the inventors, one-third to the University of Minnesota, and one-third into a fund for more research.
Some say that Honeycrisp apples have brought back eating apples fresh. St. Paul Honeycrisp grower John Jacobson believes that apple-eating went out with the unpopular Red Delicious variety. Red Delicious apples look beautiful, but do not taste good. Honeycrisp apples might actually get people to eat an apple a day, like we probably all should be.
The reason why Honeycrisp apples aren't more prominent than they are, with the crazy demand for them, is because it's still a relatively new apple. It takes years to develop apple trees. For that reason, and because of how finicky Honeycrisp trees are, it's a big production to produce these apples.
Nevertheless, as the demand continues to increase the supply will as well, and prices are expected to decrease. However, this may not be a good thing.
The Honeycrisp tree is very picky, and only thrives in certain regions (including Upstate New York, where I live, yay!). More growers will likely attempt this tree, but not necessarily in the appropriate areas. Meaning, the apples will probably not be of the same quality as they have been.
The primary inventor of Honeycrisp, Bedford, has been quoted as saying, "That's my worry as an apple breeder. It took us 30 years to develop Honeycrisp. Ultimately, all varieties get ruined sooner or later."
The lesson here is clear: Enjoy Honeycrisp while you can, and don't complain about the high price.
Moving along, let's find out what Fuji apples are all about.
Fuji apples:
Have a very late season.
Are able to store longer than most other apples.
Are yellow-green in color with red "highlights."
Tend to be very round.
Are likely named after the Japanese town Fujisaki.*
Uses – Like Honeycrisp, Fuji apples are often eaten raw, but hold up very well in baking. They are excellent for applesauce; decent for cooking, pies, and apple butter. They're not great for apple juice.
*Some insist that they're named after Mount Fuji.
Honeycrisp apples were not a part of the apple pie experiment, but Fuji were. Surprisingly, since they're considered good baking apples, they were only given a 3 out of 10.
The flavor wasn't bad: "Quite sweet and fresh tasting, not cloying." The texture was described as "crisp flesh that stays good for a long time. The texture is almost pear-like in its moisture level and crunchiness." But, "The mild flavor does not get enhanced by baking. Watery [and] tart."
Like Honeycrisp, Fuji apple trees are also fussy and demanding.
Fuji apple trees:
Are not self-fruitful.
Early crops tend to have poor flavor – hence the late season.
Have some resistance to scab and mildew.
Have some susceptibility to cedar apple rust and the wooly aphid.
Are very susceptible to fire blight.
In 1939, Japanese apple breeders at the Tohoku Research Station in Fujisaki crossed two American varieties – the classic Red Delicious and the heirloom Ralls Genet (also known as Virginia Ralls Janet) – culminating in the Fuji apple.
Red Delicious, although lacking in flavor, has a pleasing red color; a solid, firm texture; and a juicy interior. With those qualities combined with the unique flavor of an heirloom variety, it's not difficult to see how the Fuji apple has soared in popularity.
Thomas Jefferson is credited with having a part in the Fuji apple creation. (We've also mentioned him with the history of macaroni and cheese, and the history of baked Alaska – he was a foodie before there were foodies!)
French minister Edmund Charles Genet gave Jefferson a gift of apple cuttings. Jefferson donated them to a nursery in Virginia, who then cultivated the heirloom apple Ralls Genet. Therefore, it could be said that Jefferson significantly contributed to the development of the Ralls Genet, and by extension, the Fuji.
As with American apples, the Japanese Fuji apple took decades to be ready for commercial release. It was introduced to the Japanese public in 1962 and made its way to America in the 1980s. Today, America produces more Fuji apples than Japan.
Sad that the month of apple posts is almost over? We've got one more for you! (Actually, two, if we're including this week's Food History, coming tomorrow or Friday.)
We'll have an apple related Difference Between next week, that is not between two apples. Check back soon!