They look awfully alike, but the difference between hummus and baba ganoush is actually rather simple. And significant.
Please note: baba ganoush has several other different spellings.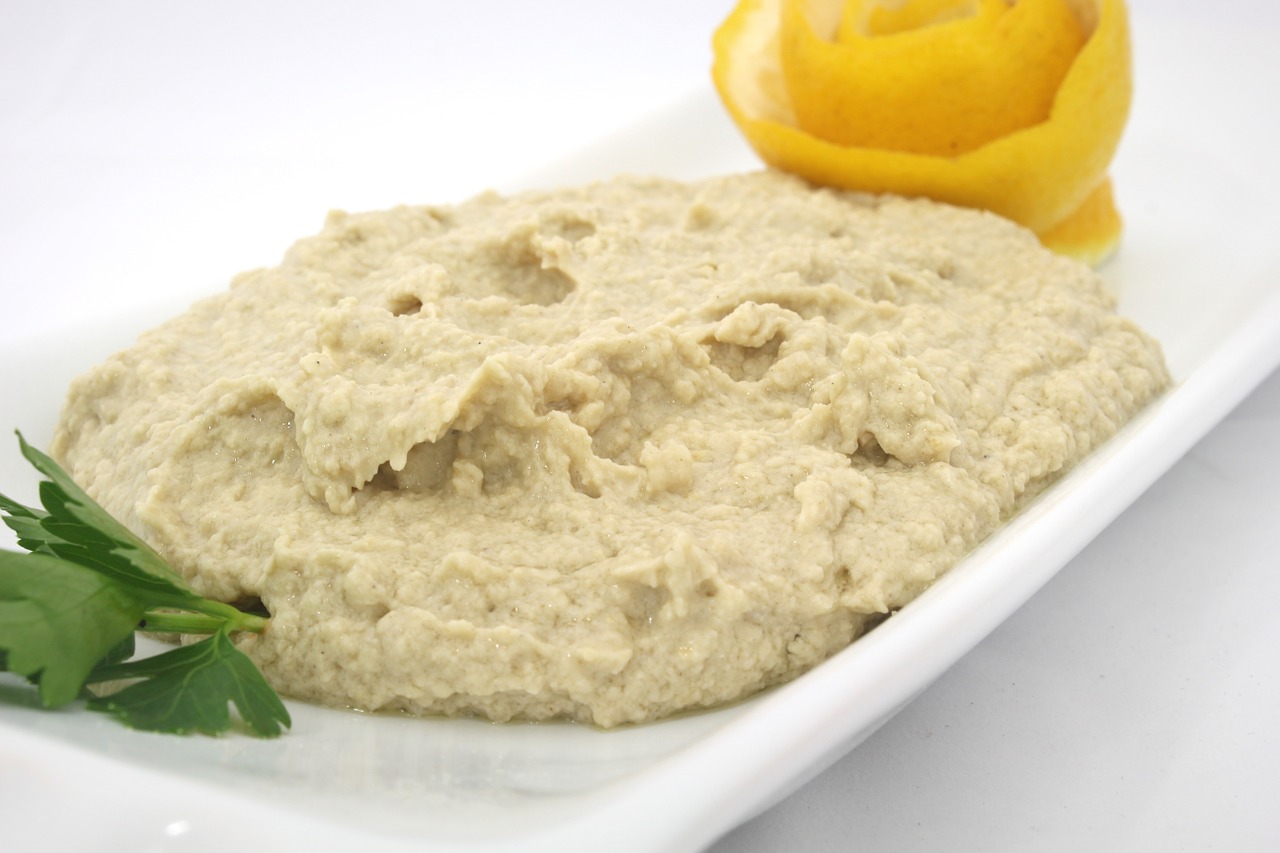 Hummus: a paste or dip made of chickpeas mashed with oil, garlic, lemon juice, and tahini, and usually eaten with pita
Baba ganoush (redirected to baba ghanouj): a salad cooked with eggplant, olive oil, garlic, etc.
As we can see right away, the main difference between hummus and baba ganoush is the main ingredient: hummus has chickpeas (also known as garbanzo beans), and baba ganoush uses eggplant.
However, the rest of the ingredients are essentially the same.
Both have a thick and creamy consistency. Taste-wise, hummus has a bit of a nuttier, bean-like undertone. With the baba ganoush, the eggplant is typically roasted or grilled, giving off a smoky flavor.
There is no denying which Middle Eastern dip is more popular: hummus, by far.
Some sources even indicate that chickpea farming is up, due to the hummus love; there is no such current uprise with eggplant. (Although, unrelated side note: ratatouille popularity did increase thanks to the Disney/Pixar movie).
I wonder if baba ganoush's lack of love in the US can be traced back to its bizarre name, or if it's the eggplant that is the turn off. Let's face it, although beautiful when on the vine, cooked eggplant is almost never appealing in and of itself.
When transformed into baba ganoush, though, it gives off the same earthy, wholesome feel that hummus does.
Both hummus and baba ganoush:
Are often served as a dip or spread.
Are high in protein and fiber.
Have no cholesterol.
Have about 20% of the recommended daily dose of Vitamin C.
Contain roughly the same minerals (iron, phosphorous, zinc, and calcium).
Hummus:
Has 435 calories.
Has 21 grams of fat.
Contains more olive oil and tahini.
Baba ganoush:
Has 363 calories.
Has 30 grams of fat.
Has more Vitamins B and E.
Has more riboflavin.
Contains omega-3 fatty acids.
Although the fat content is a bit higher, baba ganoush appears to win in the health category.
The nutritional divide between hummus and baba ganoush is not completely black and white. Sandi Bush explains the complexity nicely in a piece posted on HealthyEating.SFGate.com:
"When plain chickpeas are compared to eggplant, chickpeas have more of almost all the minerals and vitamins. The nutritional profiles change when they're made into hummus and baba ganoush because baba ganoush uses more eggplant to make 1 cup than the amount of chickpeas needed for hummus."
So there you have it. Hummus may win the popularity contest, but if you're concentrating on your vitamin and mineral intake, dip your pita crackers in baba ganoush.