No, they're not interchangeable.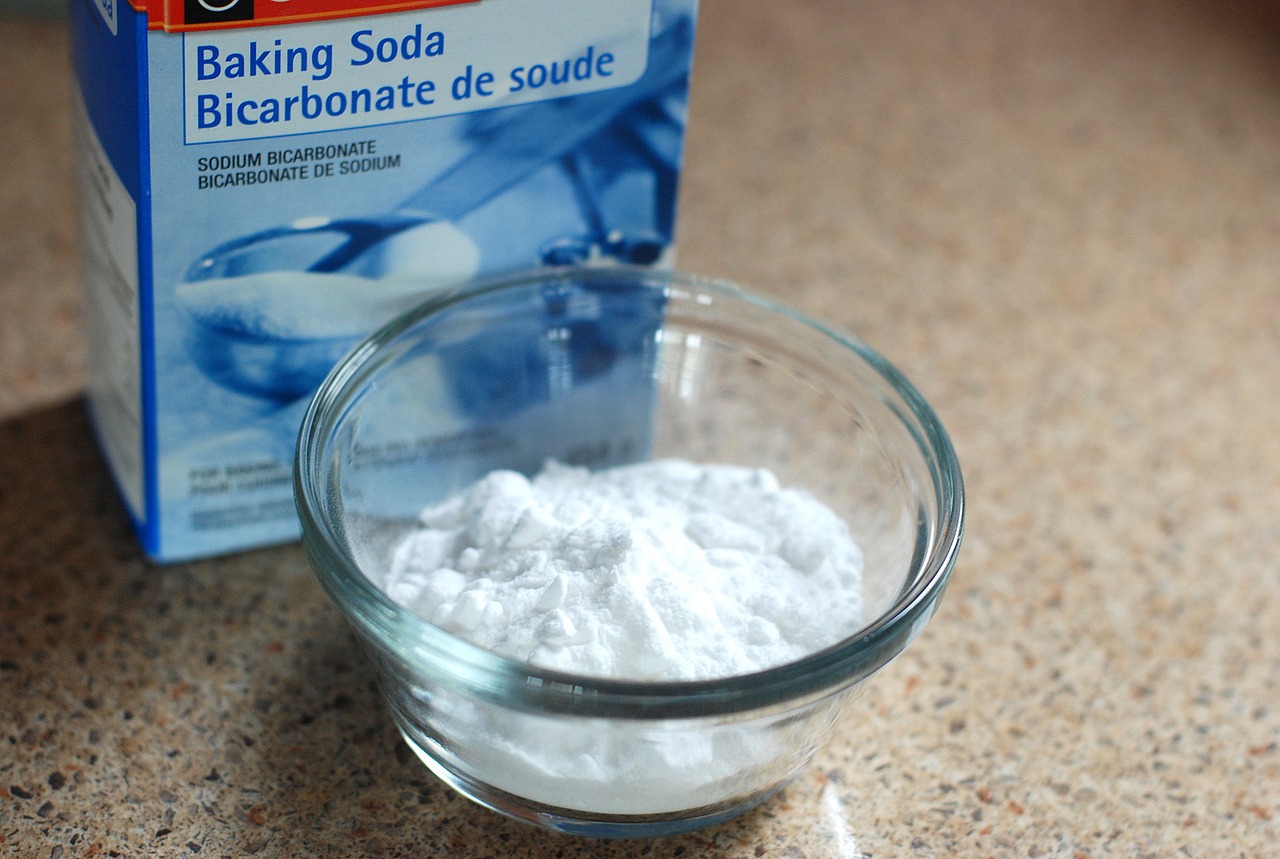 Baking soda: a white crystalline compound, used as a gastric and systemic antacid, to alkalize urine, and for washes of body cavities
Baking powder: any of various powders used as a substitute for yeast in baking, composed of sodium bicarbonate mixed with an acid substance, as cream of tartar, capable of setting carbon dioxide free when the mixture is moistened, causing the dough to rise
Both baking soda and baking powder:
Are white powders
Create carbon dioxide
Are used to make baked goods rise
Baking soda is entirely sodium bicarbonate, which is an alkaline powder, a type of base. It acts as yeast does – except it acts more quickly – to make our baked goods rise, but it needs an acid to offset that base.
Baking soda can be used as a browning agent with baked goods such as cookies. As SeriousEats.com (by far the most knowledgeable source on this topic I found, by the way) says, "As it turns out. . .once you've added enough baking soda to neutralize the acid in a batter or dough, any extra you add will work to increase browning."
This can be a good thing, or a bad thing, depending on the amount of baking soda, as the photo below indicates. These are pancakes, with each one containing an 1/8 tsp more baking soda than the one preceding it, with the one on the far left having none at all. Clearly, the one in the middle, with 1/4 tsp baking soda, is the winner.
Sodium bicarbonate – baking soda – when heated, produces sodium carbonate, which has a distinctive metallic taste to it. This taste needs to be offset by an ingredient with acid in it, such as lemon juice or buttermilk.
As JoyTheBaker.com puts it, "Baking soda needs an acid. Baking powder has an acid."
Baking powder contains baking soda, along with an acid, and cornstarch. In fact, in a pinch, you could make your own baking powder with two parts cream of tartar to one part each baking soda and cornstarch.
Baking soda, when mixed with an acidic ingredient, produces carbon dioxide during the baking process; baking powder can produce carbon dioxide on its own. In both cases, carbon dioxide forms the bubbles that allow whatever is being baked to rise.
Because baking soda can be left inactive from too long exposure to heat, baking powder can essentially take over as the leavening agent. Hence, recipes that call for baking powder in addition to, or in place of, baking soda tend to have longer baking times, as with muffins, cakes, and non-yeast breads.
The amount of acid in baking powder is labeled as fast-acting, slow-acting, or double-acting. Fast-acting baking powder, as the name suggests, works quickly. Slow-acting baking powder contains an acid that requires a longer exposure time to heat in order to work. Double-acting baking powder consists of both, causing the dough or batter to rise quickly, and then continue to rise as it is heated; most baking powders are double-acting.
Photo credit: WhatsCookingAmerica.net
Some baking powders contain aluminum as a substitute for the cream of tartar – this is a large topic that would probably warrant its own post, but if you'd like to read more on the subject this Canadian blog does an excellent job.
In conclusion, baking powder contains baking soda. Because baking powder already incorporates the acid that baking soda needs, one would think you might not need baking soda at all. But remember, baking soda also operates as a browning agent.
You can substitute baking powder for baking soda, but not the other way around. About three times as much baking powder can be used in place of baking soda; the additional ingredients in baking powder may or may not have an effect on the taste.