Kudos to my friend Jenny for suggesting this Difference Between post.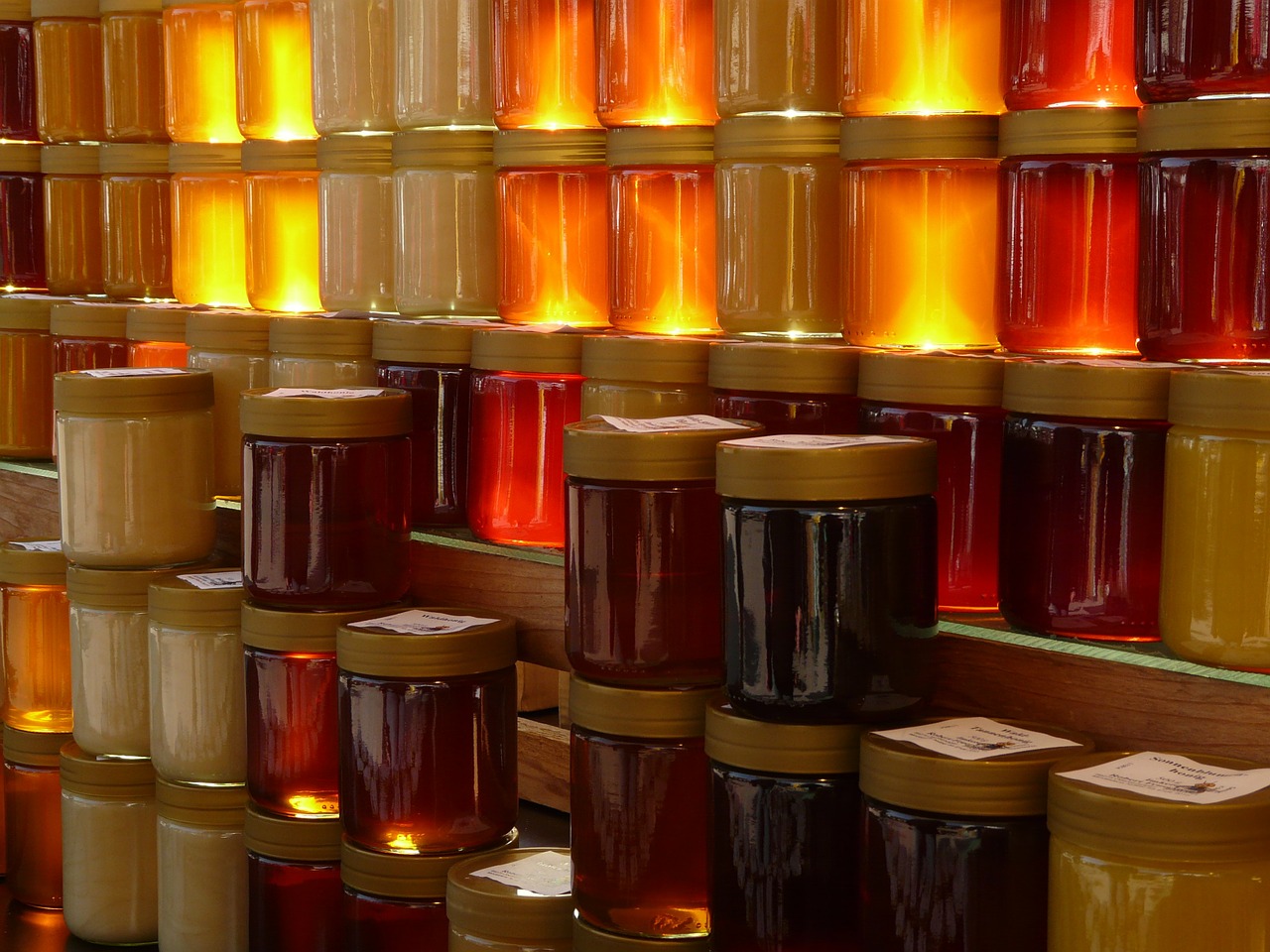 Thank you to Honey.com, HoneyO.com, BeeWayHoney.com, Benefits-Of-Honey.com, LivingHoney.biz, and FAO.org for their information on light honey versus dark honey.
In short, light colored honey has a mild taste to it while darker honey is more intensely flavored, but let us explore the subject further.
Before honey is the sweet substance we know it to be, the process begins with flowers needing to be pollinated by bees. In exchange for pollination, flowering plants disburse nectar. Nectar is composed mostly of sugars, which bees use in conjunction with a few other minor substances to formulate into honey.
The color, flavor, and even the scent of honey can vary widely depending on the source of nectar. In addition, the weather can have an effect on the end result. As Honey.com says, "Even the same flower blooming in the same location may produce slightly different nectar from year to year."
When bees gather nectar from only one source, it is labeled "single-flower honey," such as clover or lavender. When the nectar is taken from a wide variety of sources, the honey is known to be "wildflower" honey. Clover honey, a light honey, is the most common.
Honey can be light colored, dark, or anywhere in between. As indicated earlier, the darker the honey is the more bold and distinctive the flavor.
Light honey, such as the aforementioned clover, is ideal for sweetening cereal or tea, while dark honey, such as buckwheat, works better on oatmeal or in breads; dark honey performs not unlike brown sugar.
In between light and dark honey there is "amber" colored honey, which can be derived from flowers such as star-thistle, sage, or alfalfa. 
Interestingly, the preference for light honey versus dark honey is dependent largely upon location; for instance, Americans prefer the subtle undertones of light honey, while Europeans are partial to the bolder flavors of dark honey.
It should mentioned that although generally lighter means milder, there are exceptions to this rule, as Benefits-Of-Honey.com points out: "Some of the most distinctively and strongly flavored honey varieties, such as blasswood, are very light, while very mild and pleasant honeys such as tulip popular can be quite dark."
Furthermore, while the color of the honey is not typically an indicator of the quality, there is an exception to this guideline as well, as honey can become darker during storage or if it is heated.
While darker honey is more flavorful and intense than light, it also contains more nutrients, including vitamins, minerals, and antioxidants. The University of Illinois scientists compared Illinois buckwheat to California sage and found the buckwheat to contain 20 times the amount of antioxidants.
In addition to light, dark, and amber honey, there is comb honey, liquid honey, creamed honey, and chunk honey. Honey is produced in every state, and there are more than 300 varieties available in this country. Read in detail about the most common types here.