I made this macaroni salad over fourth of July weekend a couple weeks ago, when I was going with the husband to visit a girlfriend from college in Jersey City.
My friend has a *severe* onion allergy, so I had to make several substitutions for this recipe from the original – not only because of the allergy, but also because of what I had on hand. I was a bit nervous, because this recipe comes from my Better Homes and Gardens Cookbook, which is typically foolproof, but you know what?
The changes I made really came out perfectly, and it's how I'm making this one going forward.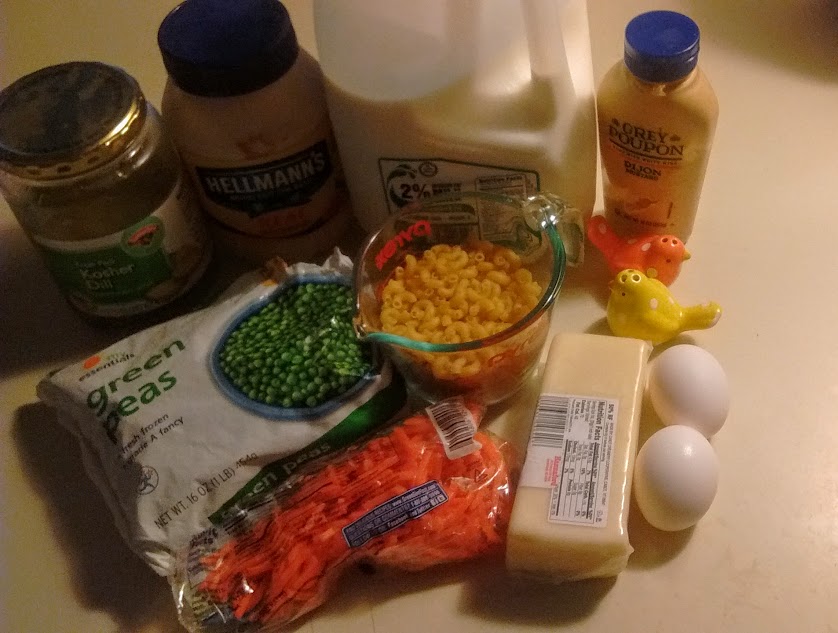 Ingredients:
1 cup elbow macaroni
3/4 cup cubed white Cheddar cheese
1/2 cup frozen peas
1/2 cup grated carrots
1/2 cup mayonnaise
1/4 cup finely chopped dill pickles*
2 tbsp milk
1 tbsp Dijon mustard
1/4 tsp salt
dash black pepper
2 hard-cooked eggs, coarsely chopped**
*I think the pickles are what makes this recipe special. I often mix mayonnaise and mustard together, but adding chopped pickles to the dressing really gives it some oomph.
**How to hard boil eggs: Place eggs in a sauce pan and cover with water an inch above the eggs. Turn heat on high. When at a rolling boil, remove from the heat and cover; let sit for 15 minutes. Then, immediately transfer to a large bowl with half cold water and half ice cubes. Let eggs sit in ice water bath for at least 10 minutes.
I've also made this using celery seeds, but I will include a list of possible additions to the recipe in the card at the bottom of the post.