I really, really enjoy this recipe.
Just make sure you properly mince up the chipotle peppers, or else you'll really clear out your sinuses in every other bite.
This one is adapted from Crock-Pot Classic Recipes, which I've been using a lot lately.
Ingredients:
1 to 1 1/2 pounds boneless, skinless chicken breasts, cut into cubes
1 tsp salt
1 tsp cumin
1 bay leaf
3 to 4 chipotle peppers in adobo sauce, minced*
1 medium yellow onion, diced
1 (15.5 oz) can black beans, rinsed
1 (15.5 oz) can great northern beans, rinsed
1 (14.5 oz) can crushed tomatoes, undrained**
1 1/2 cups chicken broth
1/2 cup orange juice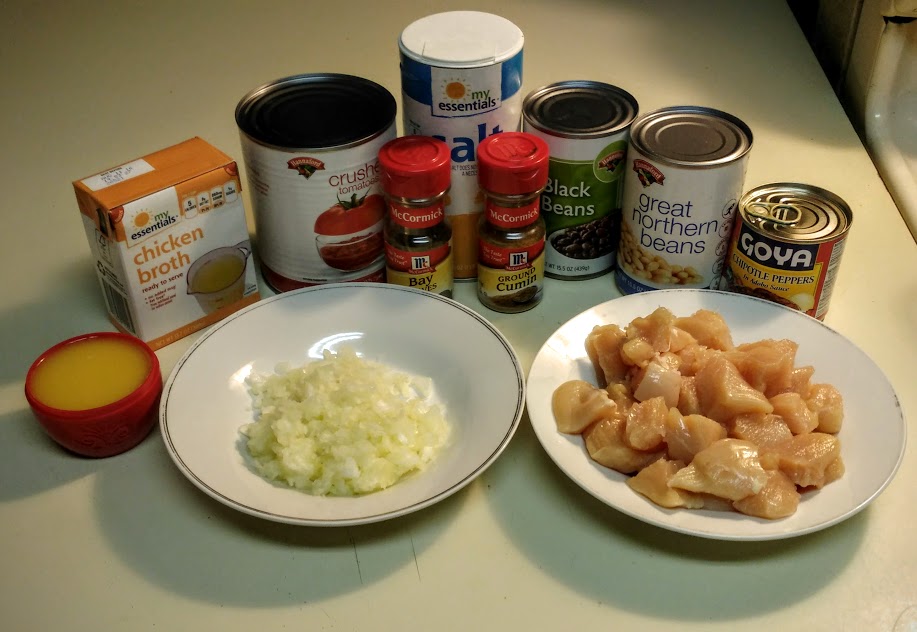 *Use your judgement here. The original recipe dictates only one pepper, which I obliged by the first time I made this recipe, but it is not enough. Also, the chipotle peppers I've noticed can vary in size a lot. So adjust accordingly for your own preferences, and make sure you get some of the adobo sauce in there, too.
**I can never find a 14.5 oz can crushed tomatoes and always have to get a bigger size. Can you find them?