Well, I came in second out of four for this competition.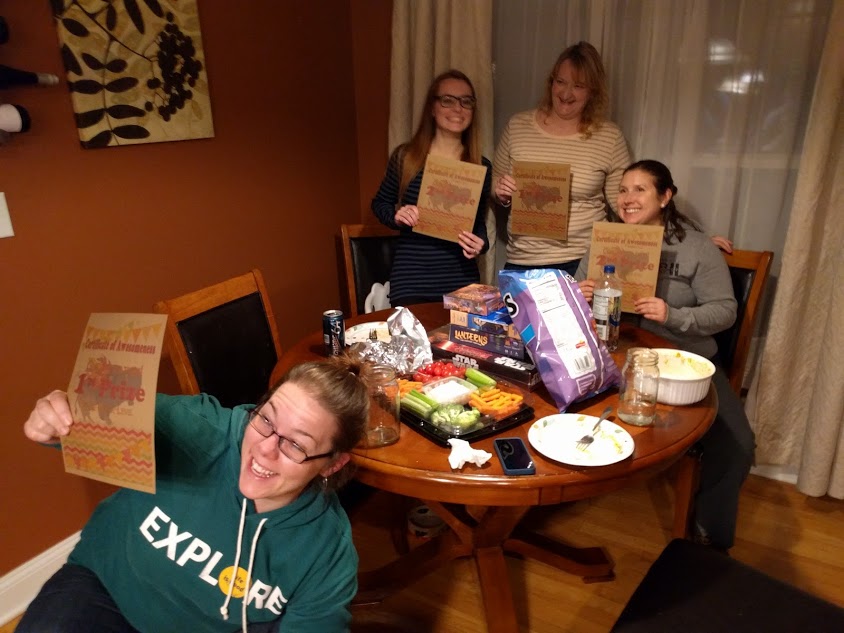 I was expecting to come in second, but was surprised by the dish mine lost to.
(Note on photo: We didn't decide until the last minute if we were doing two competitions – appetizers and main dish – or putting all four in the same competitive pool, which we did end up doing. This is why two certificates say 1st and two say 2nd; 3rd and 4th just got bumped up a little bit, I suppose!)
Game Night 01-13-16: What did the Buffalo say? (Bison.)
Competition was for the best buffalo dish.
Game played: Salem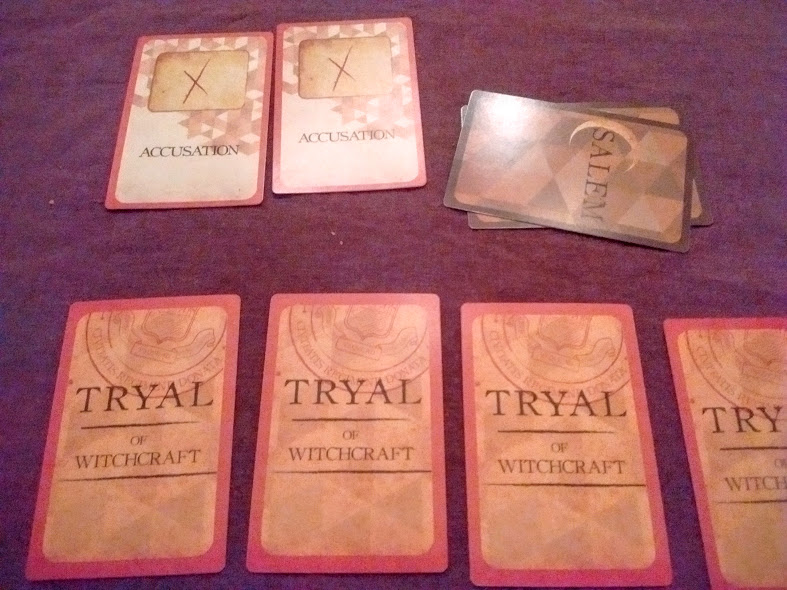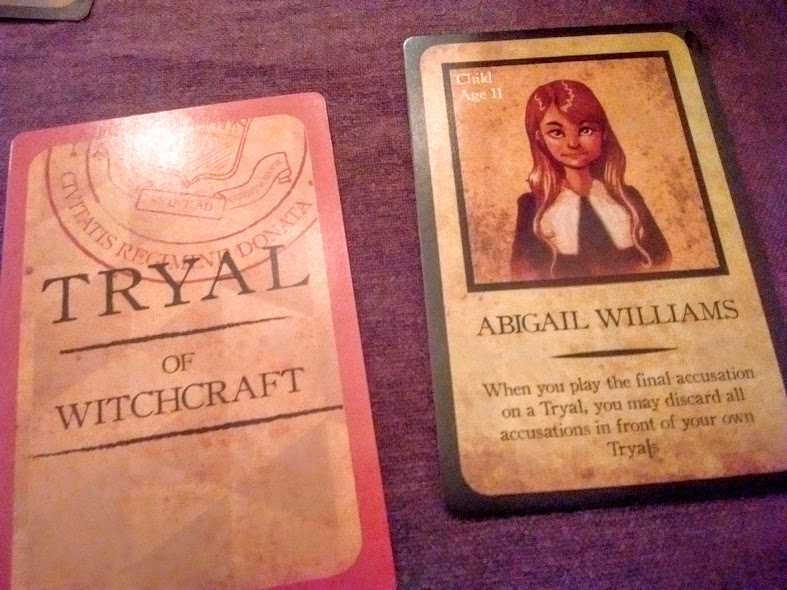 I really enjoyed this game, in no small part because I went to Salem not long ago, for Halloween. And dressed like witch.
The contenders:
Sarah Hodges with Loaded Potato and Buffalo Chicken Casserole
Kristi LaMonica with Buffalo Chicken Dip
Erin Nudi with Buffalo Chicken Stuffed Shells
Tara Nudi with Buffalo Chicken Jalapeno Poppers
The judges:
Teresa Behers
Jenny Grant
Peggy Hodges
Alan Nudi
Ryan Nudi
Melissa Severson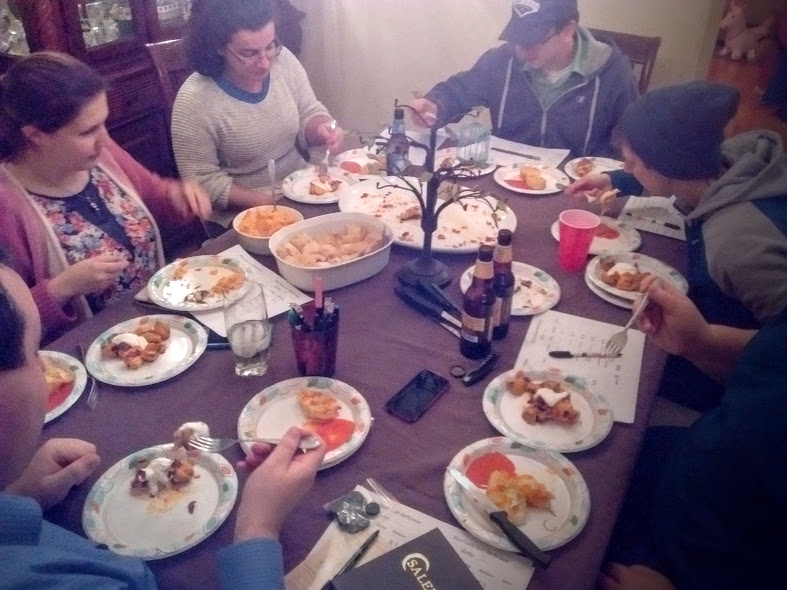 Judged on:
Presentation: 10%
Mouthfeel: 10%
Heat/Spiciness: 10%
Buffa-level (authenticity): 20%
Overall Flavor: 50%
Final score out of 300 points:
Sarah's buffalo dish: 256
Kristi's buffalo dish: 253
Erin's buffalo dish: 261
Tara's buffalo dish: 278
Sarah's dish: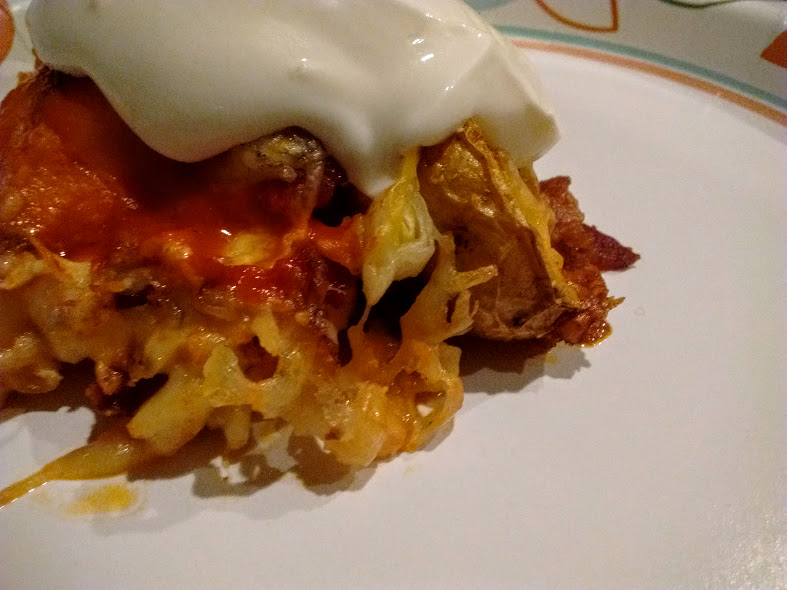 Kristi's dish:
Erin's dish: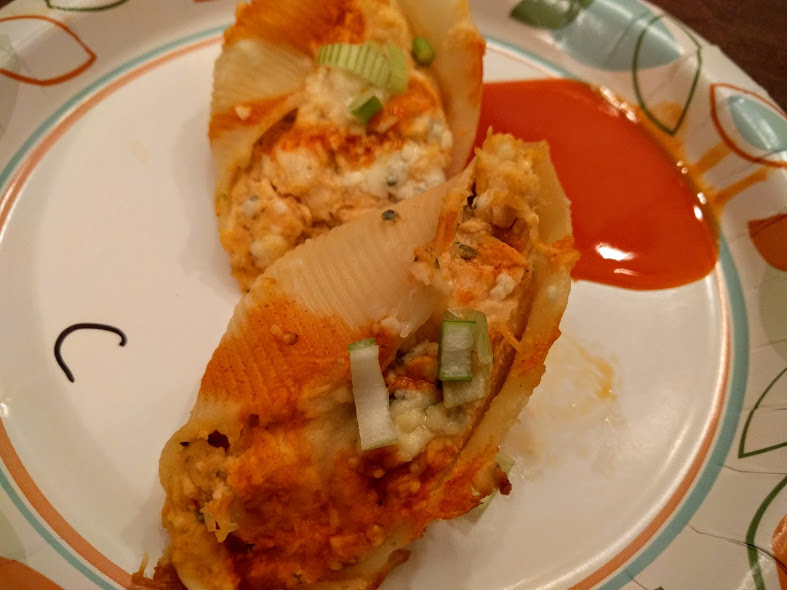 Tara's dish: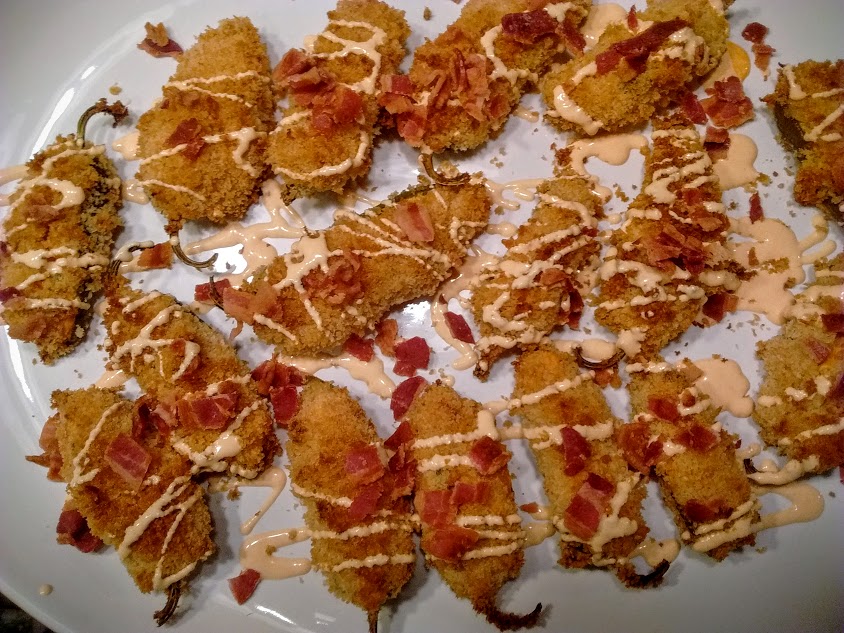 Comments from judges…
On Sarah's:
Wish the plate was arranged similarly to [Erin's] – sauce on the side.
Missing some heat, but very creative and tasty!
Nice meal! Not hot, but very pleasant. I could eat a lot more of this.
Like the sour cream on top. I think the heat hits more after than during.
Really enjoyed the combination, and it's a clear favorite, but felt the least authentic.
A great dinner for buffalo-lovers; not very spicy, but that means you can eat more of it!
On Kristi's:
Wish presentation was more creative.
Safe choice. Although lacking in presentation, makes up in hotness and taste!
Classic, but somewhat bland.
Good but plain.
Great dip! Delicious. Would eat this at any picnic! Seemed very safe though.
On mine:
The most beautiful presentation of the four, and delicious, and interesting textures! Overall could not quite combine well enough the spice with the rest.
Wish the sauce was used as a drizzle instead of dumped on a plate.
Creative! Nice mix of cheeses, especially keeping the ricotta flavor along with buffalo!
The bleu/feta cheese threw the buffalo flavor off a little. Fun to dip in the sauce. Looked beautiful.*
Very creative. Though the pasta was a little dried out.
Slightly heavy on the bleu cheese for my taste, but proper on authenticity.
*I have to dispute this. There was no feta. There was bleu cheese, which is in fact very authentic to a buffalo flavor. That being said, there was definitely too much bleu cheese.
On Tara's:
Amazing! Almost too spicy for me though, but overall excellent blend of flavors, texture, etc.
Texture of jalapeno a little mushy.
Love the drizzle! Mayo plus hot sauce? Very creative and not overpowering on spicy levels!
Awesome hot buffalo flavor but occasionally slid off pepper.
Really like the jalapeno, but almost think it takes away from the buffalo-ness – kind of overpowering. But delicious!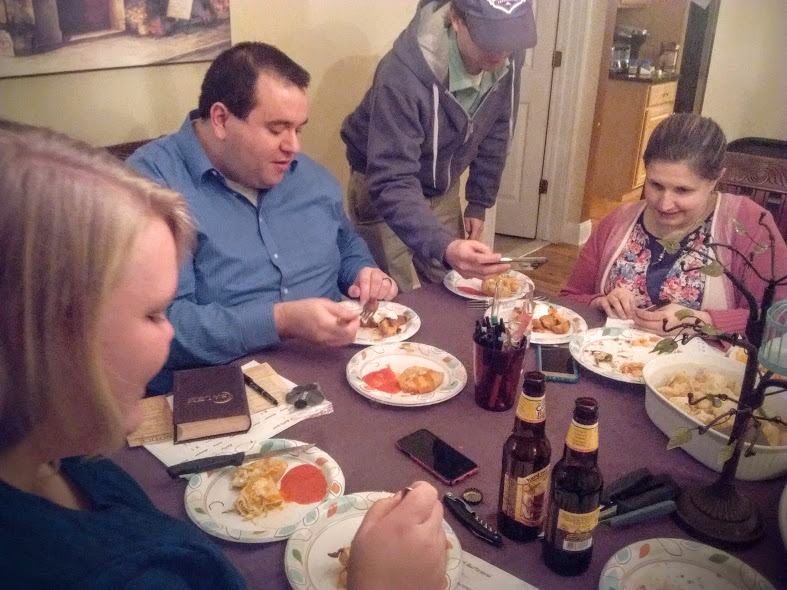 My thoughts:
When I tasted Tara's, I sighed a sigh of relief. This is good, I thought, but not amazing. She may actually not win this time.
Then, I tasted Sarah's. I think for competitors, there's always that bittersweet moment where you taste the other person's food, and you say, oh crap. This is delightful. That was Sarah's casserole for me.
Kristi's I enjoyed also – it actually is very reminiscent of my own buffalo chicken dip. As others alluded to though, it was the overly safe choice, so I wasn't too worried about that either.
So I came in second as I expected, but lost to Tara, and somehow by the grace of God beat out Sarah.
I think what happened was, I mentally set the bar much higher for Tara. I was like, oh, beautiful jalapeno popper buffalo chicken things with arty sauce drizzled and topped with bacon? Pfffftt. No competition here.
But if anyone other than Tara had made them…maybe I would have felt differently.
The recipes…
Sarah's recipe hails from Food.com, with the following alterations:
2 (20 oz) bags gold creamer potatoes, quartered, instead of medium potatoes.
Quadrupled the hot sauce (Frank's Red Hot Wing ); also drizzled generously with hot sauce after removing from oven.
Mixed Marie's super bleu cheese with sour cream for a fun topping.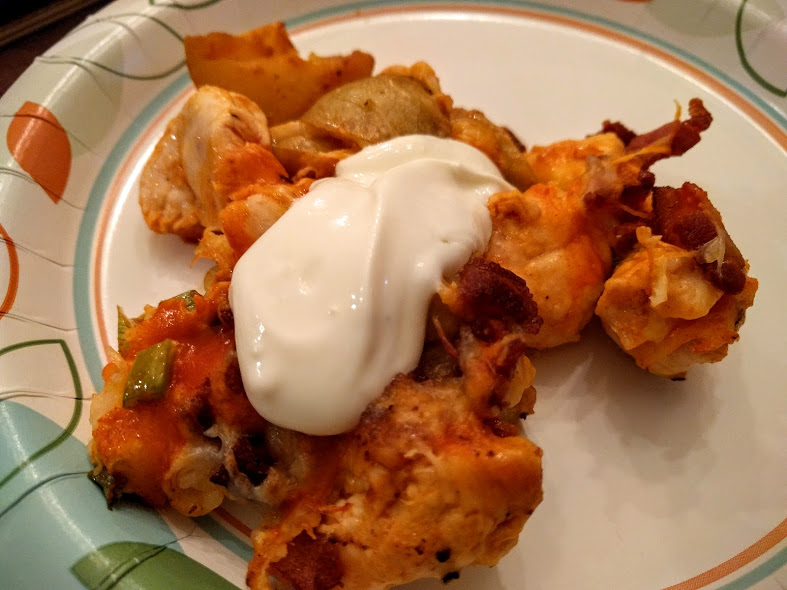 Kristi's recipe is as follows: 3 cups shredded chicken breasts, 1 package 1/3 less fat Philly cream cheese, 3 cups reduced fat Mexican blend shredded cheese, and 1/3 large bottle Frank's Red Hot sauce. Mix and microwave. Easy and classic.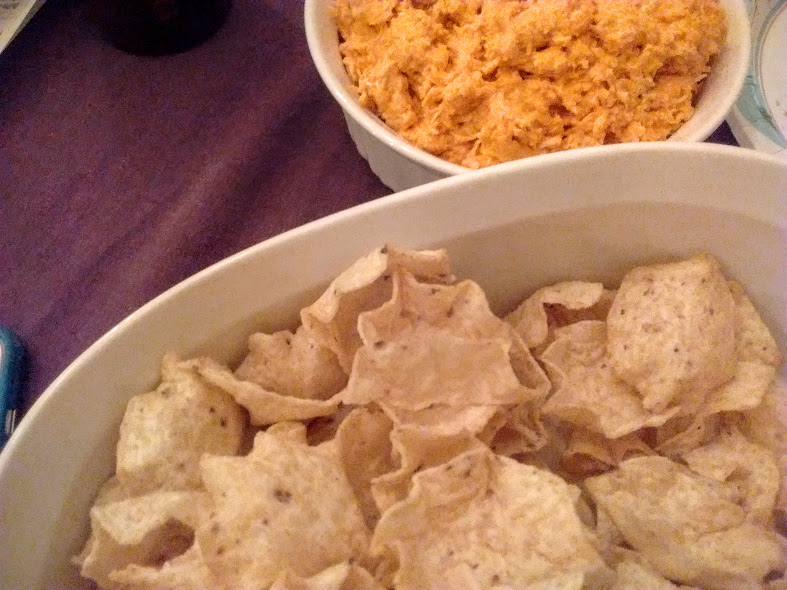 My recipe comes once again from FlavorMosiac.com.
I have to say, my trial run went better than the real thing. My pasta was slightly dried out, and I put too much bleu cheese and mozzarella on top of the shells. Lesson for next time: Cook on site if possible.
These photos are from the trial run; you can see the slight difference between them here, and the photo up above.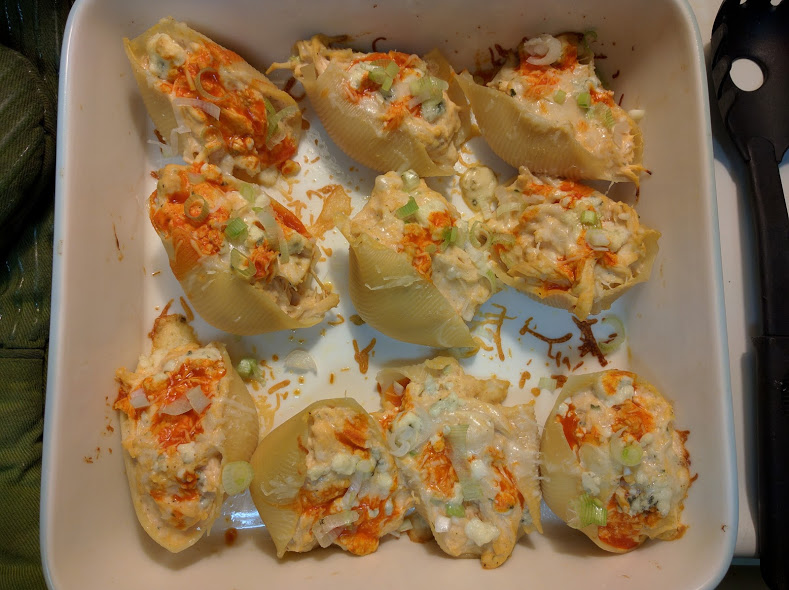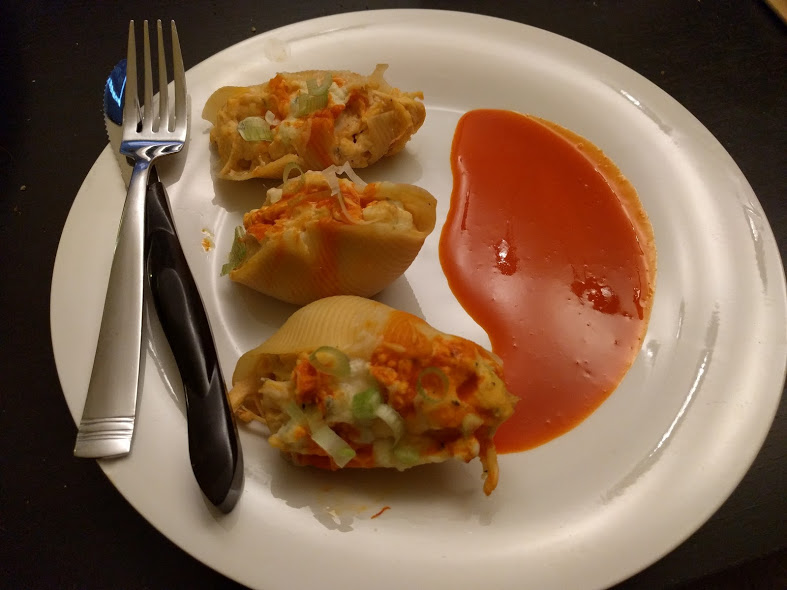 Tara's dish is a combination of recipes from HalfBakedHarvest.com and SkinnyTaste.com. She garnished the two with a mixture of half sour cream, half wing sauce, and tossed on some bacon, because, bacon.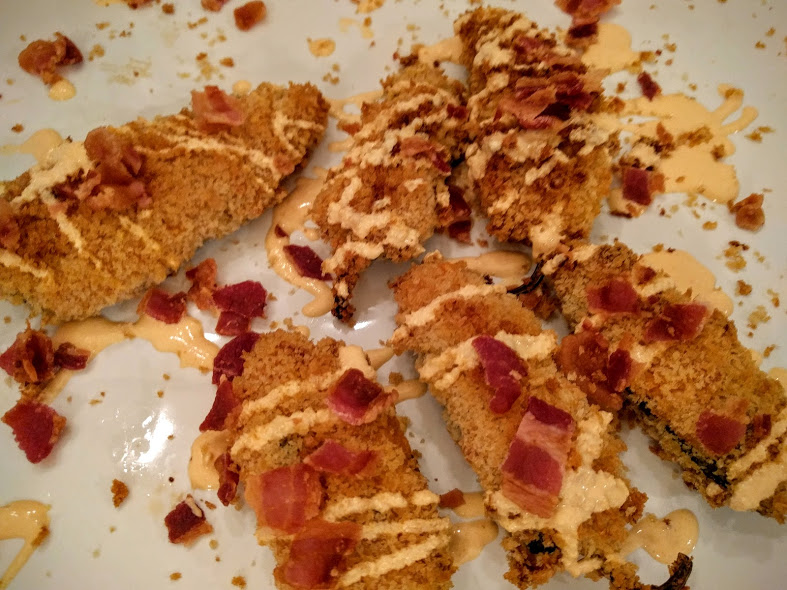 Up next game night: to be determined! Suggestions welcome – both food and games!