I won another competition! Maybe my losing streak is winding down!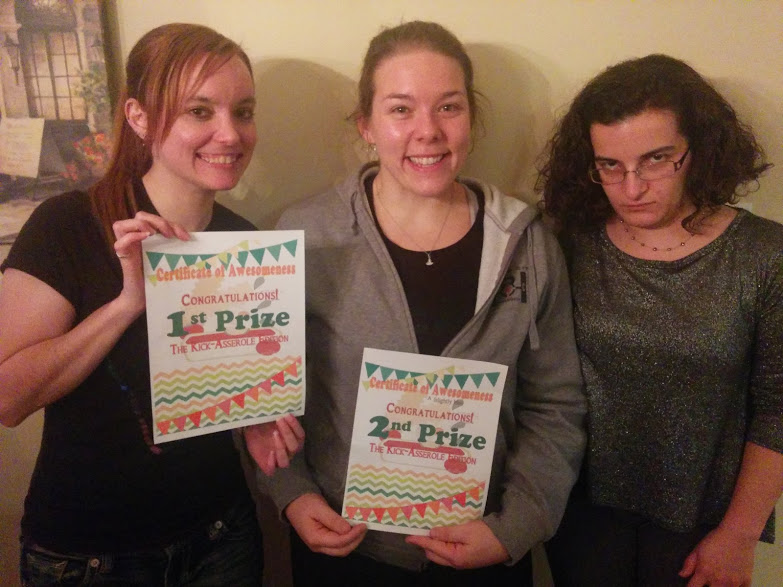 Game Night 12-02-15: Kick-asserole
Competition was for the best casserole dish.
Other food enjoyed: a salad courtesy of Kristi, and yet another example of cupcake perfection courtesy of Tara.
Game played: 7 Wonders. We've been liking this one lately.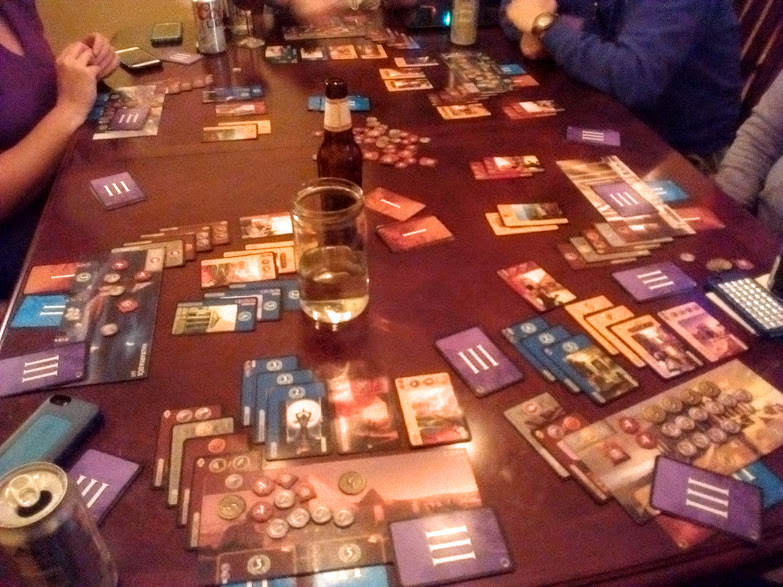 The contenders:
Sarah Hodges with Pork Pot Pies with Corn Pudding Crust
Erin Nudi with Chicken, Bacon, and Ranch Casserole
Melissa Severson with Arizona Tuna Casserole
The judges:
Jenny Grant
Kristi LaMonica
Tara Nudi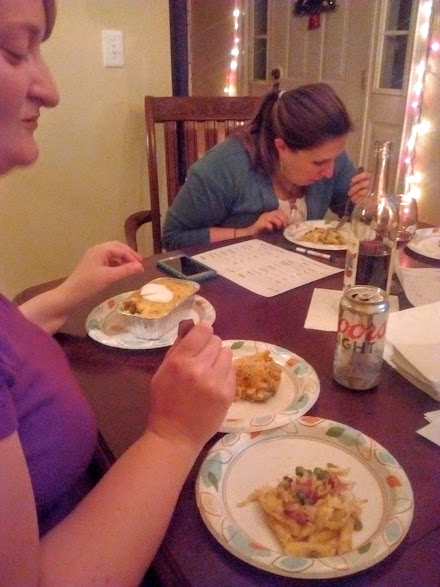 Judged on:
Authenticity: 10%
Mouthfeel: 20%
Complexity: 10%
Choice of Ingredients: 10%
Overall Flavor: 50%
Final score out of 150 points:
Sarah's casserole: 131
My casserole: 145
Melissa's casserole: 127
Melissa's casserole: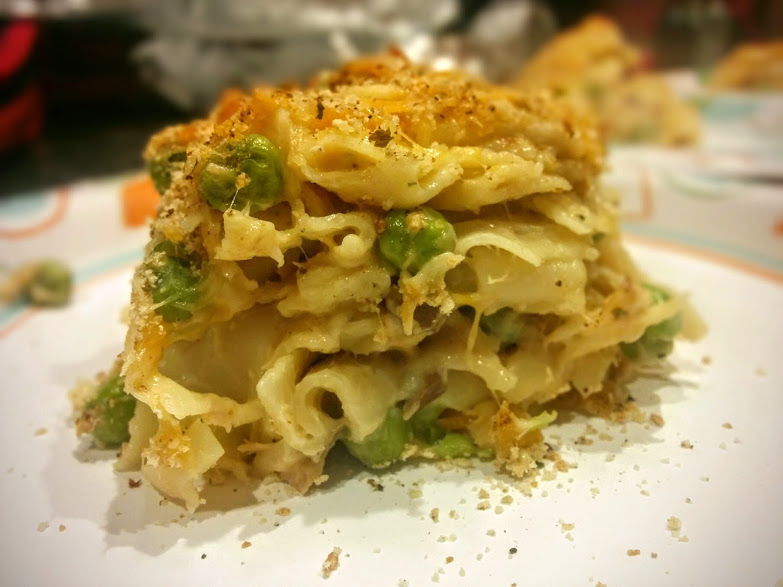 My casserole: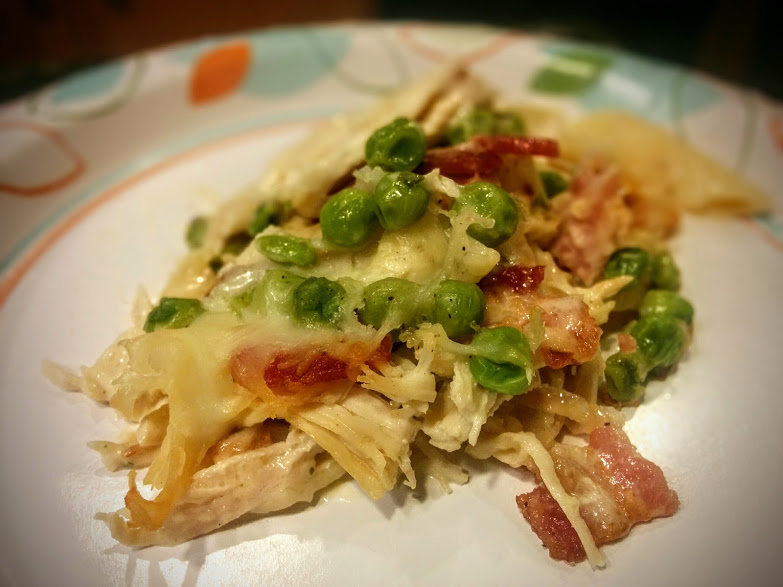 Sarah's casserole: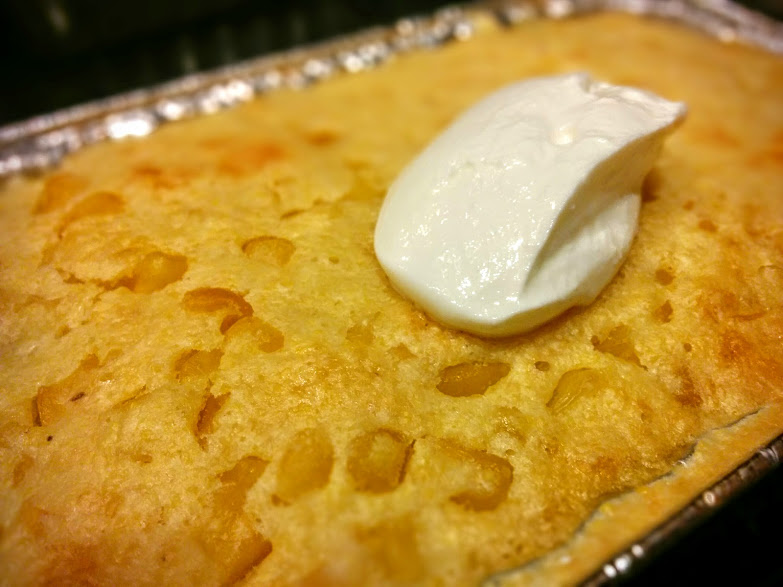 Comments from the judges…
On Sarah's:
"Needs more salt, not enough spice."
"Very good. Needs salt. Might have liked a little more veggies."
"Points for creativity! Needs a little salt."
Man, the salt criticism is always harsh. That was me in a prior contest.
On mine:
"Everything –> yum yum!"
"Maybe a tiny bit too crispy on the top."
"This is delightful."
On Melissa's:
"Needs more sauce."
"Very good. Needs a little more tuna maybe?"
"A bit dry. Nice crust!"
My thoughts:
Melissa's casserole was decent but lacked oomph. Melissa's dish is perfect for a lunch to bring to work, or a last minute dinner. It's good, it would be in the dinner rotation, but it wouldn't be something I'd, um, put in a contest. (Am I getting more brutal with my reviews here?)
I did not like the cornbread-ness of Sarah's, which is a personal preference of mine. I've tried recently this cornbread-type crust thanks to Emeals which the husband and I have been giving a try, and…I'm just not a fan. But once I shoved Sarah's cornbread crap aside the pork was absolutely perfect. People other than me did seem to enjoy the cornbread.
Now, I wouldn't really consider Sarah's dish to be a casserole; it was a pot pie. But, is a pot pie a type of casserole? Arguably so. Sarah pointed out that the definition of a casserole is basically food that gets baked in a casserole-type dish – the end.
On a related note, I did a test run of two different chicken cordon bleu casseroles and decided not to use either of them. One had pasta in it, and one didn't.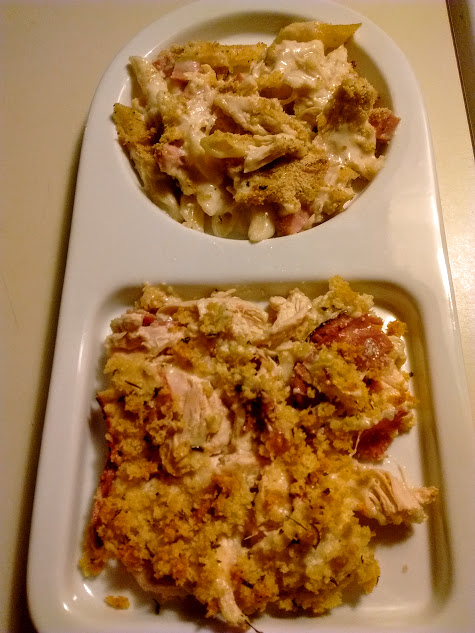 I thought, chicken cordon bleu doesn't normally include pasta, and pasta is not necessarily a required ingredient of a casserole. But, one sort of expects pasta in a casserole, no?
I considered playing around with the sauce and doing some sort of combination of the two recipes, and I decided not to go with either at all. Upon trying the chicken, bacon, and Ranch casserole, I knew I had to go no farther.
The recipes…
Sarah's recipe was adapted from MyRecipes.com, with the following changes:
Cooked pork filling the slow cooker on low for 6 to 8 hours.
Used additional cumin, as well as cayenne, salt, and pepper.
Used 1 box Jiffy corn bread for the crust, 1 (15 oz) can creamed corn, 1 (15 oz) can whole corn, 1 egg, and 1/3 cup half and half.
Filling went into individual loaf pans, topped with corn bread pudding, and baking for about 20 to 30 minutes at 425 degrees F.
Topped with dollops of sour cream before serving.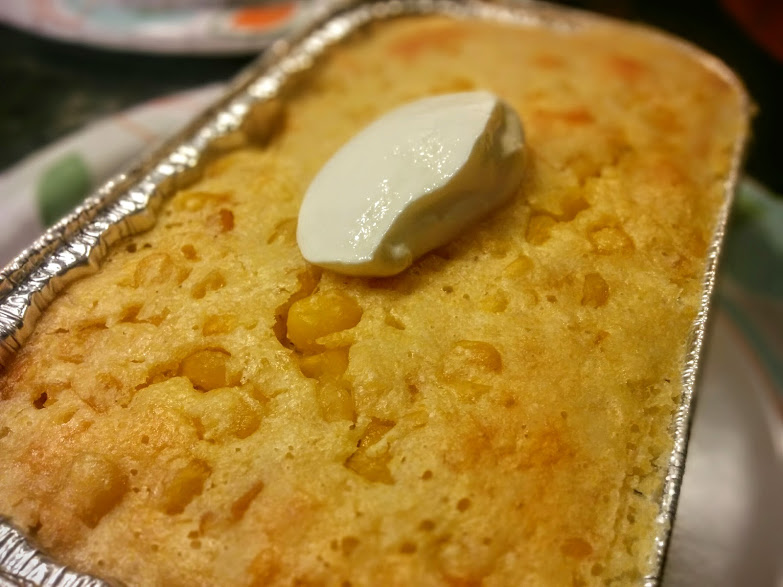 My recipe come from FlavorMosiac.com. I used a full packet of Ranch seasoning instead of half, and 1 1/2 cups of heavy cream instead of 1.
I'm assuming the peas can be substituted out for frozen or blanched broccoli, but really, the peas make a perfect addition. And it's one of those ingredients you're likely to have on hand anyway.
To be clear, chicken, bacon, and Ranch is obviously an excellent trio that has united forces before. But, what makes this casserole recipe really stand out is the sauce – it's just the perfect, perfect sauce for this.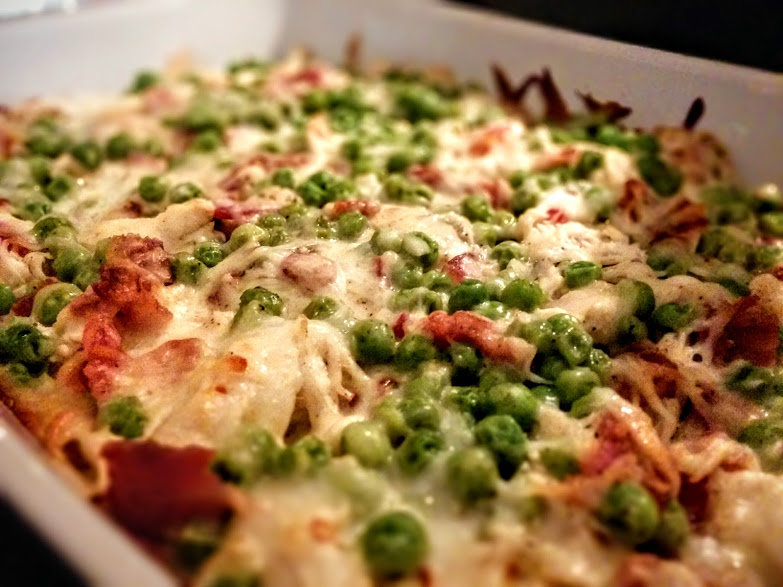 Melissa's recipe was made, as she said, "fast and messy." There is: 1 bag egg noodles, 1 can tuna, 2 cans cream of mushroom soup, 1 bag Colby-Jack shredded cheese, 2 tbsp breadcrumbs, 1 tbsp Penzey's Arizona Dreaming spice mix.
Cook pasta according to package directions. Add tuna, soup, spices, and 3/4 of cheese. Heat on medium for about 10 minutes. Transfer to casserole dish and top with remaining cheese and the breadcrumbs. Bake at 350 degrees F for 30 minutes.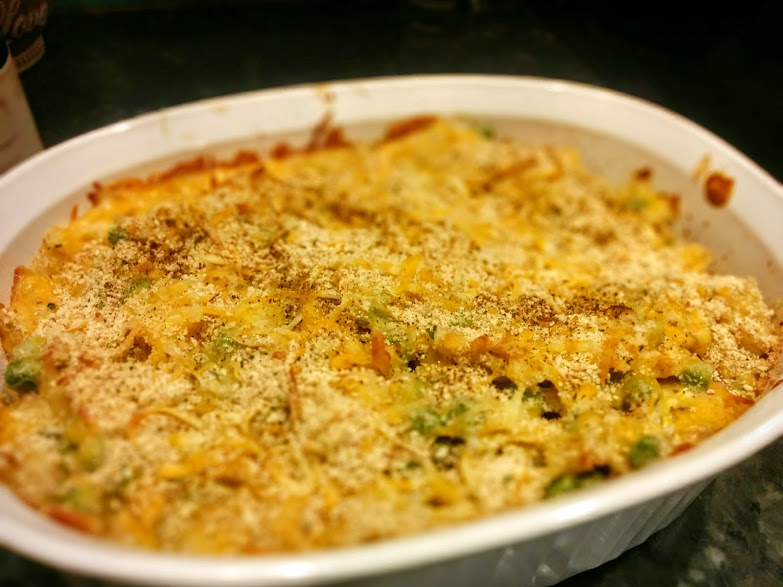 Up next game night: No competition, but a Christmas cookie exchange!