Our latest game night – a soup and sandwich combo!
Yours truly finally won a second competition.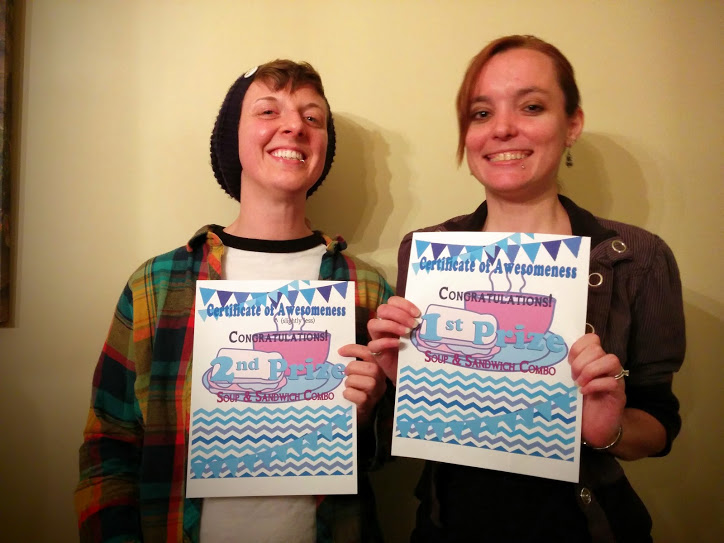 Although I was told after my win to "not get too cocky because [they] really wanted bacon and cheese in the soup."
Game Night 10-21-15: Soup for You and a Sandwich Too
Competition was for the best soup and sandwich combination.
Other food enjoyed: sour cream and onion potato chips and salad.
Game played: Telestrations.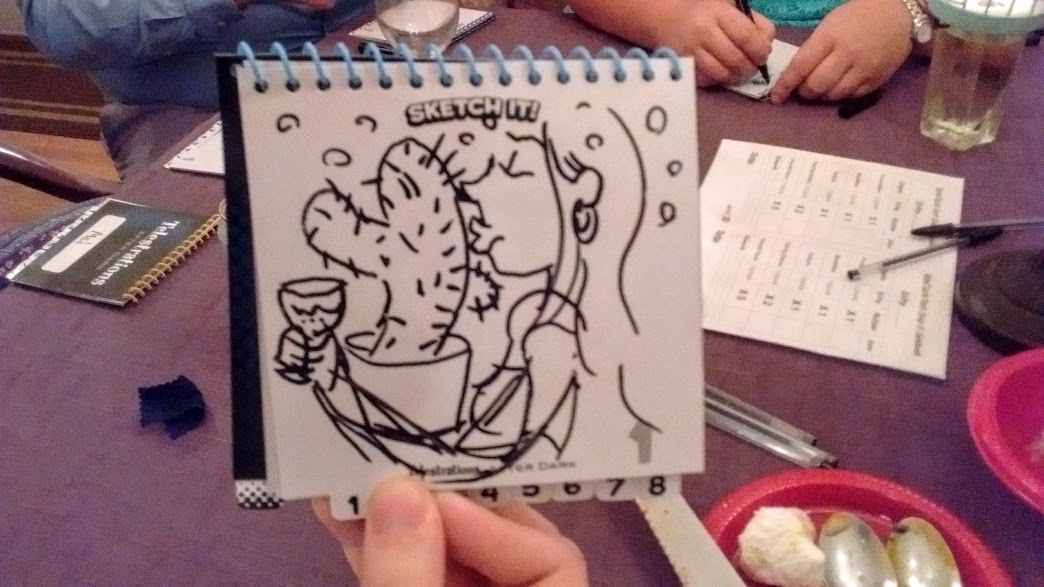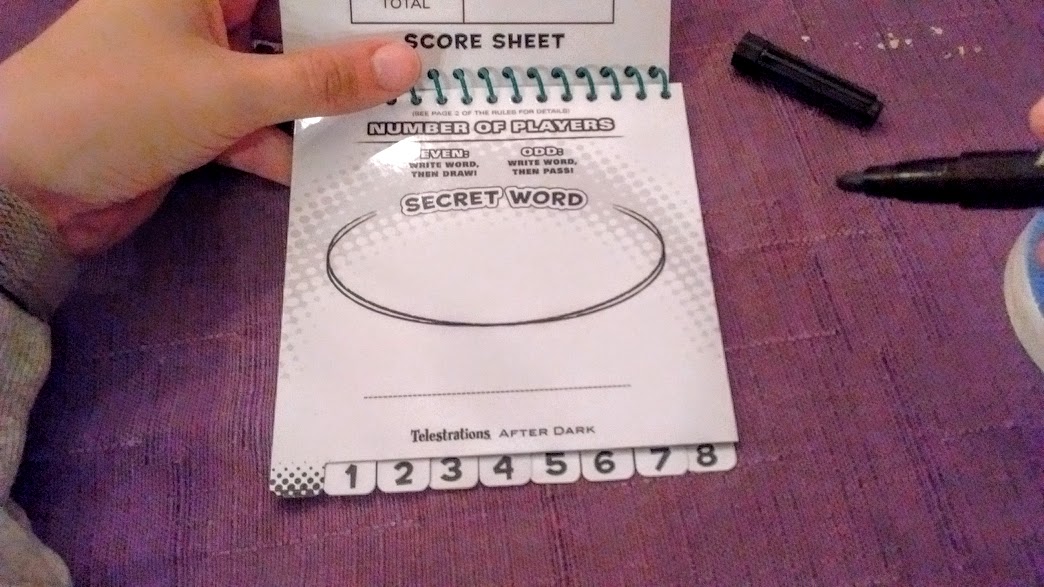 The contenders:
Teresa Behers with Carrot Ginger Soup and Pesto Turkey Sandwiches
Erin Nudi with Potato Leek Soup and Meatball Sandwiches
The judges:
Jenny Grant
Andrew Hodges
Peggy Hodges
Sarah Hodges
Kristi LaMonica
Alan Nudi
Tara Nudi
Melissa Severson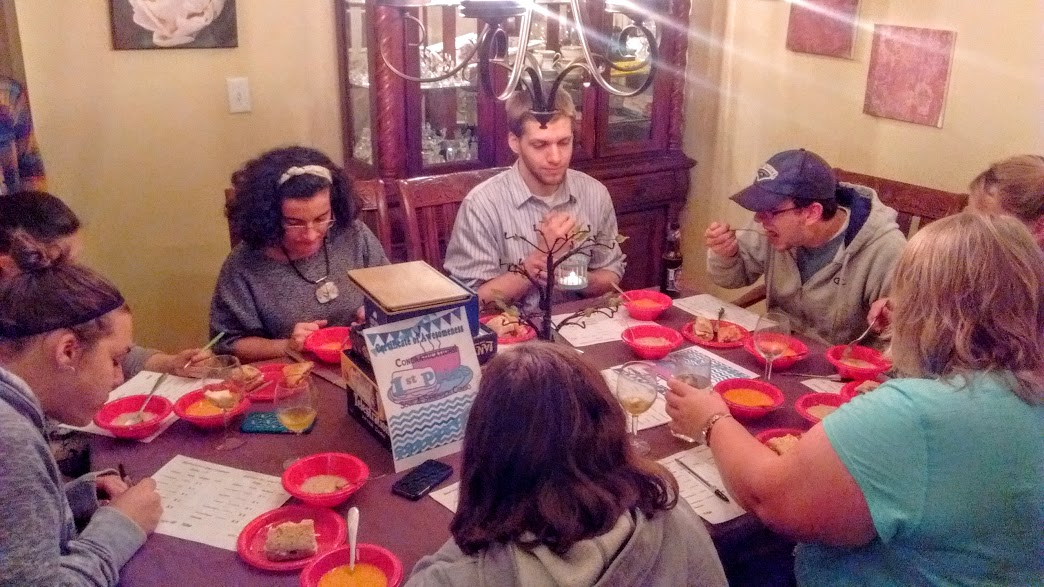 Judged on:
Presentation: 10%
Mouthfeel: 20%
Texture: 20%
Pairing Choice: 20%
Overall Flavor: 50%
Final scores out of 400 points:
Teresa's dish: 344
Erin's dish: 349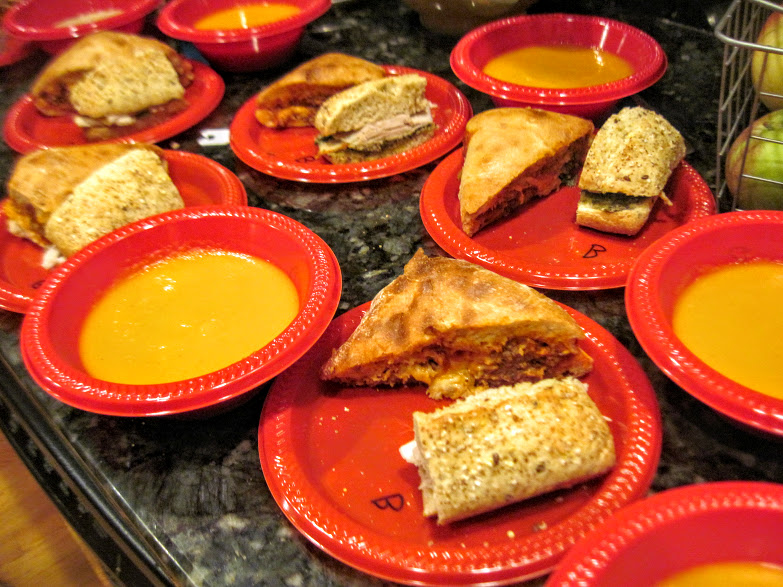 As you can see, it was a very close call.
Teresa's soup and sandwich: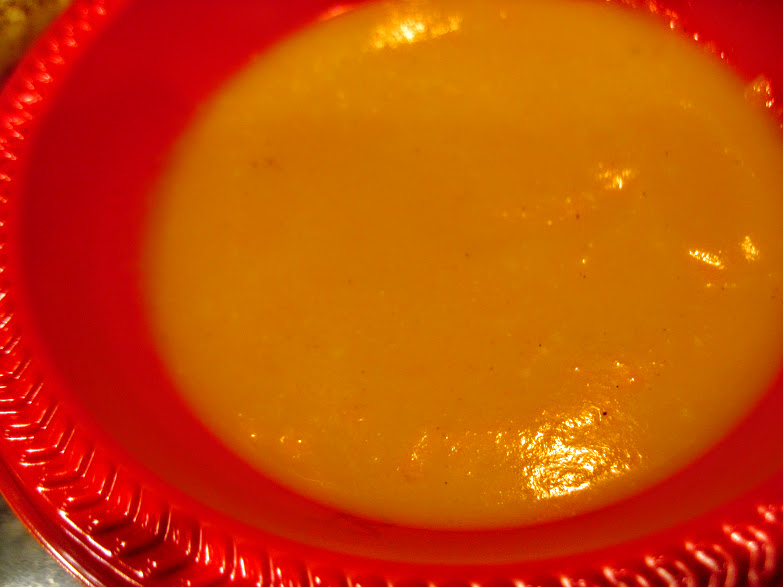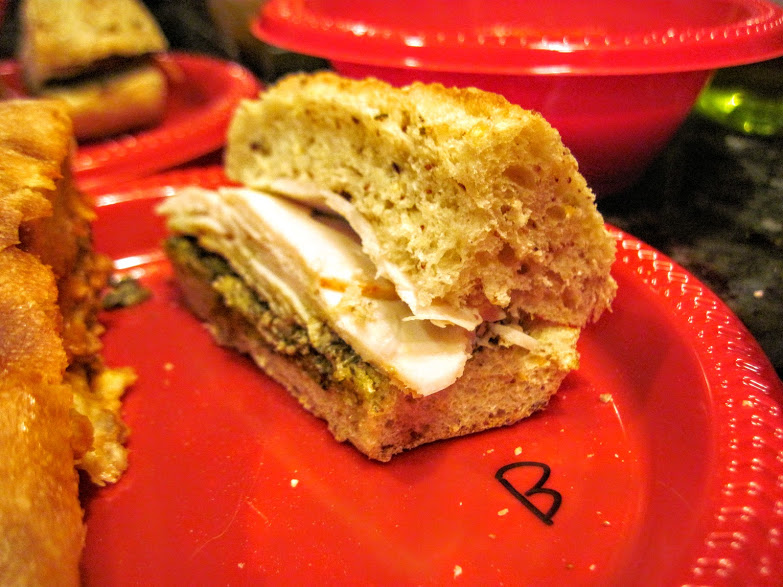 My soup and sandwich: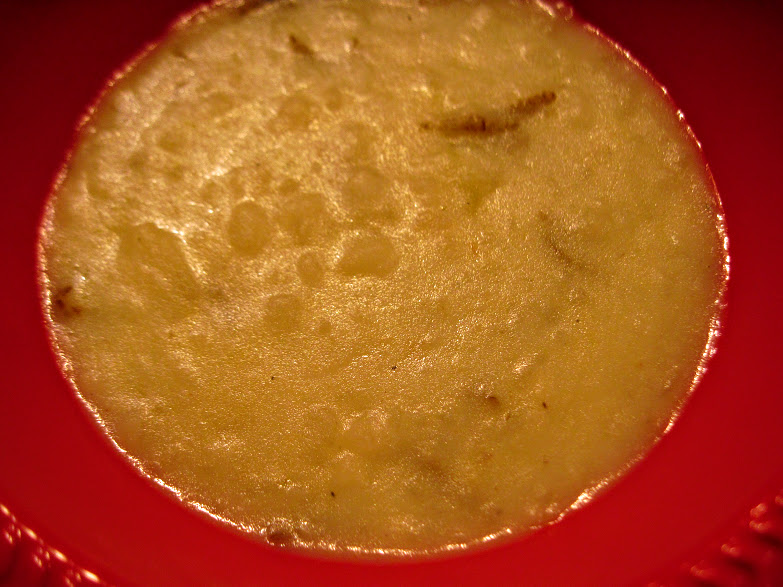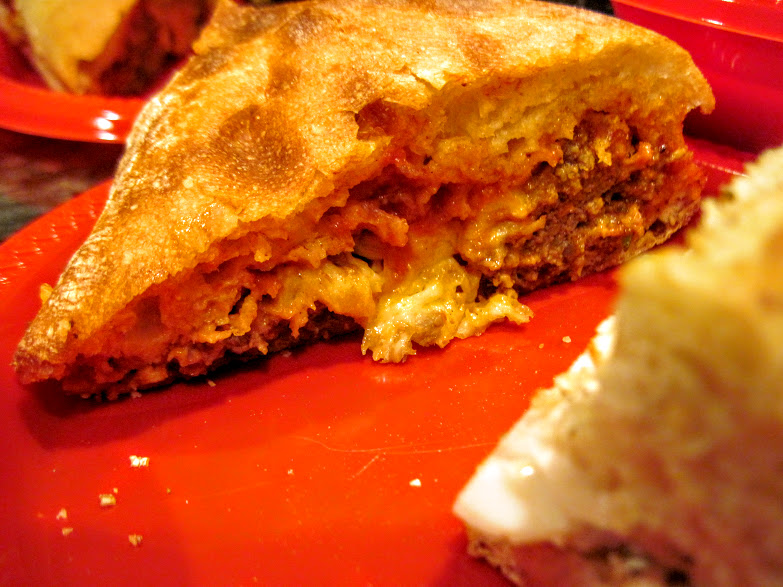 Wow, neither of our soups looked that visually appealing, eh? At least hers had some nice color to it. Well, both were yummy regardless.
Comments from the judges….
On Teresa's:
"Amazingly perfect combination! But soup was thin, should have been thicker. Sammich = perfect."
"The spice in the soup was strong, but when paired with the sandwich, perfect. Turkey should have been warmer."
"Soup was great – lemon flavor was a little strong for my taste. Sandwich was yummy – good for dipping!"
"Not a fan of the soup spices, but the texture was great. I'm weird though. Sandwich was great."
"Excellent seasoning in soup."
"Good pairing. Soup had some strong flavors – overall good, but something was a little weird."
"Enlivening. Awkwardly strong."
"Loved the two of them together."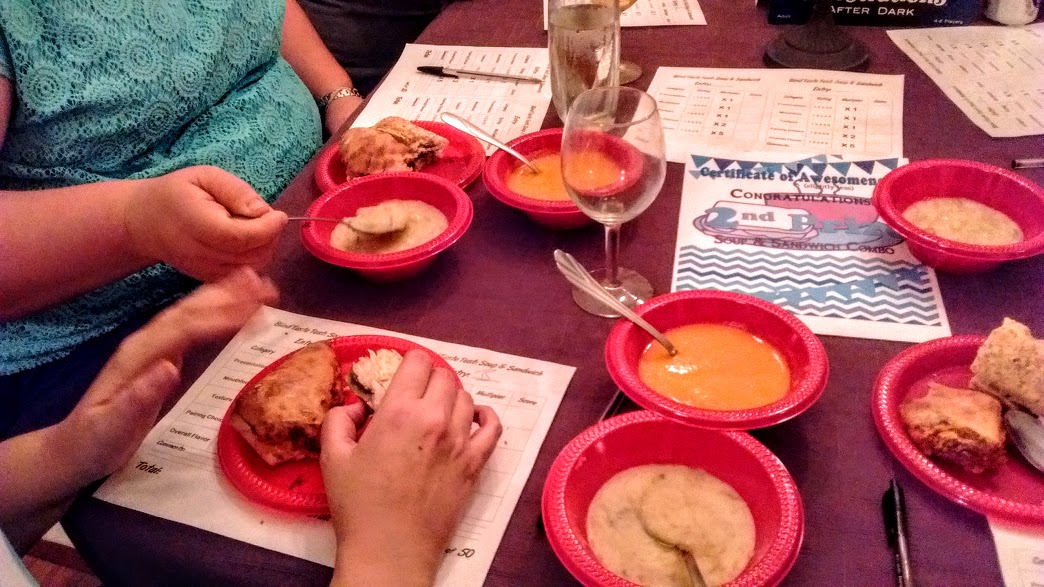 On mine:
"Perfect pairing choice! Sammich = perfect. Soup = delicious but felt like it was supposed to be more evenly thick and was lumpy instead."
"Fantastic combo – meat and potatoes. Soup could have had more flavor and presentation. Sandwich was FAB."
"LOVE the sandwich! Soup texture/consistency was perfect but wish it had more exciting flavor."
"Soup needs more salt. Texture would have been better if bread was toasted."
"Great pairing – comforting. Home-y. Homey? Homey, homie."
"I liked them separately, but the pairing was a bit odd to me. Wish there was bacon in the soup!"
"Classic, creamy, cheesy."
"Good together, awesome sandwich. Don't love the soup texture, but I'm weird about texture."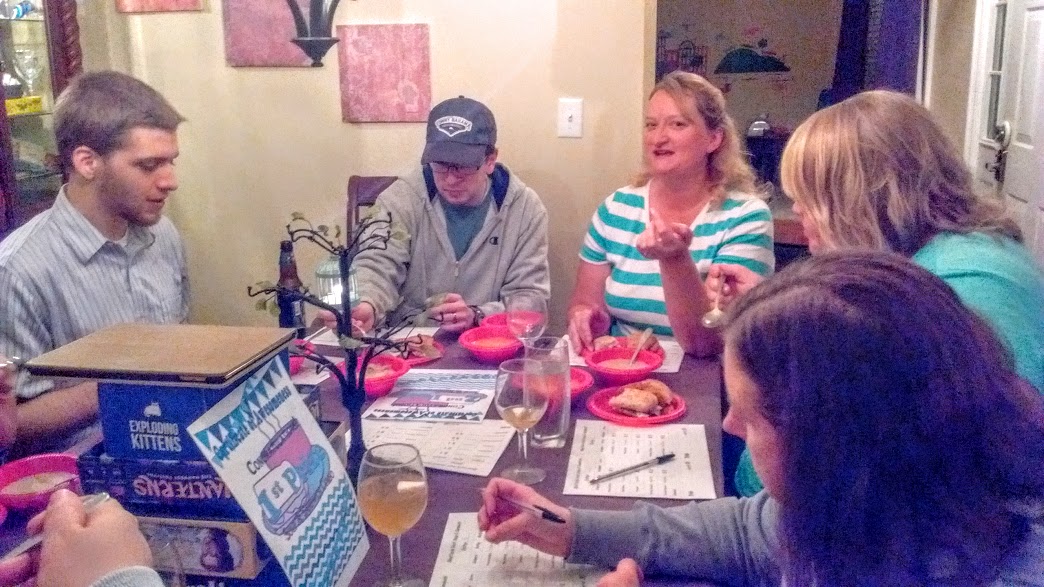 My response to a few of the comments (Teresa feel free to comment on your comments in the comment section!):
It is true the soup was lumpy and not 100% consistent. I like some small lumps of potatoes in potato soup. The recipe if you check it out allows you to get the exact consistency you want, whether it's totally pureed or super chunky. Personal preference!
I actually put a lot more salt in the soup than I usually do, after having been criticized for my lack of salt before.
The bread was in fact toasted. It just obviously didn't seem like it by the time it got to the table.
On the pairing: I personally thought that was where I fell short. I didn't have the time/money to do a trial run with new recipes, so I made two things I had made many, many times before. Only after did it occur to me I could claim it was a "meat and potatoes" theme, but the truth is that I just picked two recipes I enjoyed. I think a tomato soup would have been a better pair. But! I know for a fact Tara, one of the judges, is not a big fan of tomato soup, so that's another reason I did not go in that direction.
Teresa's recipes:
Teresa's soup is as follows: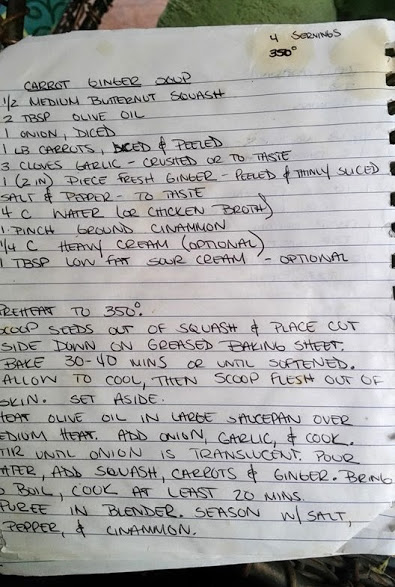 Her sandwiches were ciabatta bread rolls with seeds, turkey, and pesto.
My recipes:
My potato leek soup is from PinchMySalt.com. The key to this recipe is to not peel the potatoes, because it actually gives the soup a little color, in a rustic sort of way. Also, then you don't have to peel the potatoes.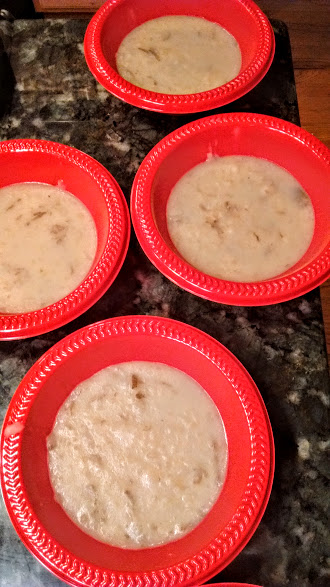 My meatball sandwiches are from this blog here, and originally from Food Network Magazine. The ciabatta bread addition is mine. The store was out of the longer ciabatta bread loafs, so I went with ciabatta bread rolls instead.
Up next game night: to be decided.