I came thisclose to beating Tara the Terrible – that's my new nickname for her, I've decided, everyone join me – in our vegetarian main dish competition.
The bad news: I lost. Again.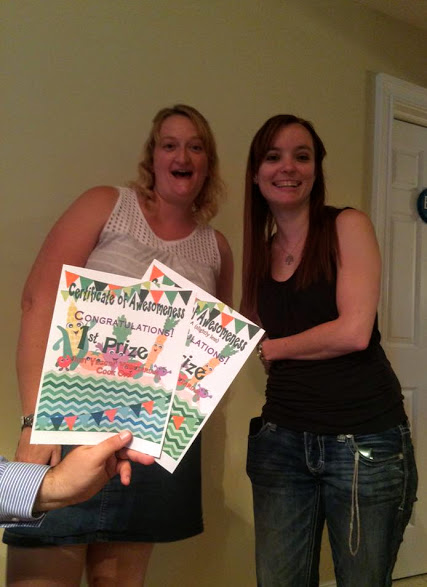 The good news: I am undoubtedly becoming a better cook, and when I get my revenge, it will be *sweet.* (Or cold. Revenge is a dish best served cold, right?)
Game Night 07-22-15: Just Veggin'
Competition was for the best vegetarian main dish.
Other food enjoyed: a meat, cheese, and crackers platter; and sweet tea cupcakes with peach cream cheese frosting, courtesy of Sarah Hodges and Tara Nudi respectively.
Games played: Splendor, King of Tokoyo, and 7 Wonders.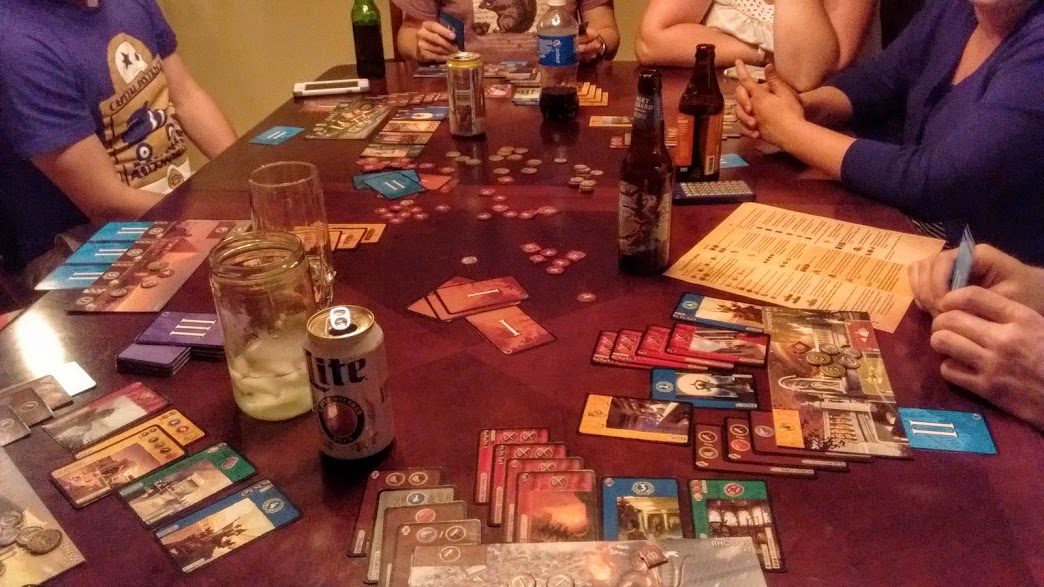 (Side note: I have played 7 Wonders almost half a dozen times now, and my brother-in-law still has to hold my hand through every game. Good game though.)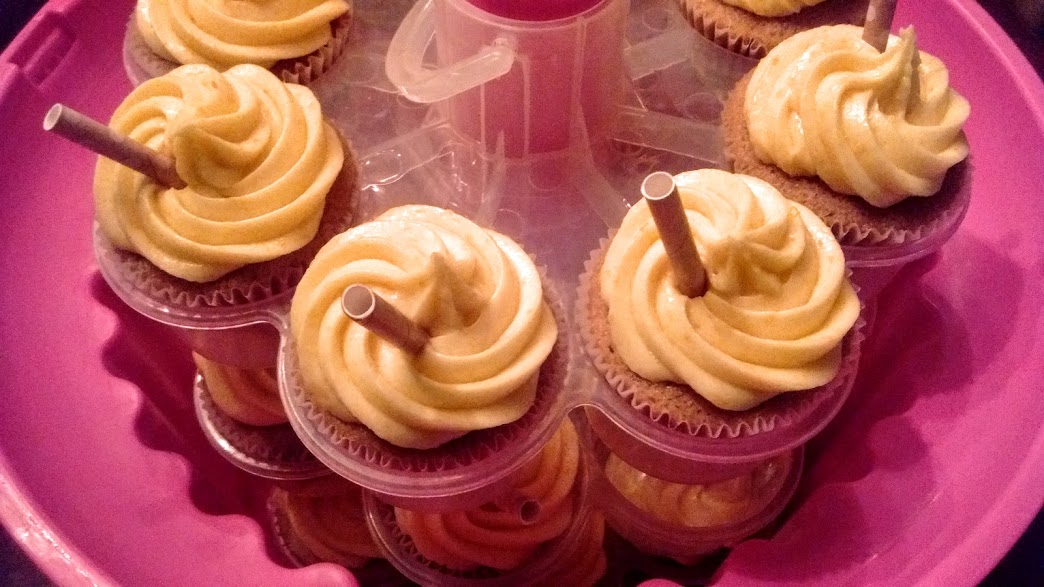 The contenders:
Erin Nudi with Vegetable Lasagna
Tara Nudi with Eggplant Parmesan
It's funny that we both ended up doing fairly similar dishes, considering the category of vegetarian main dish is so open.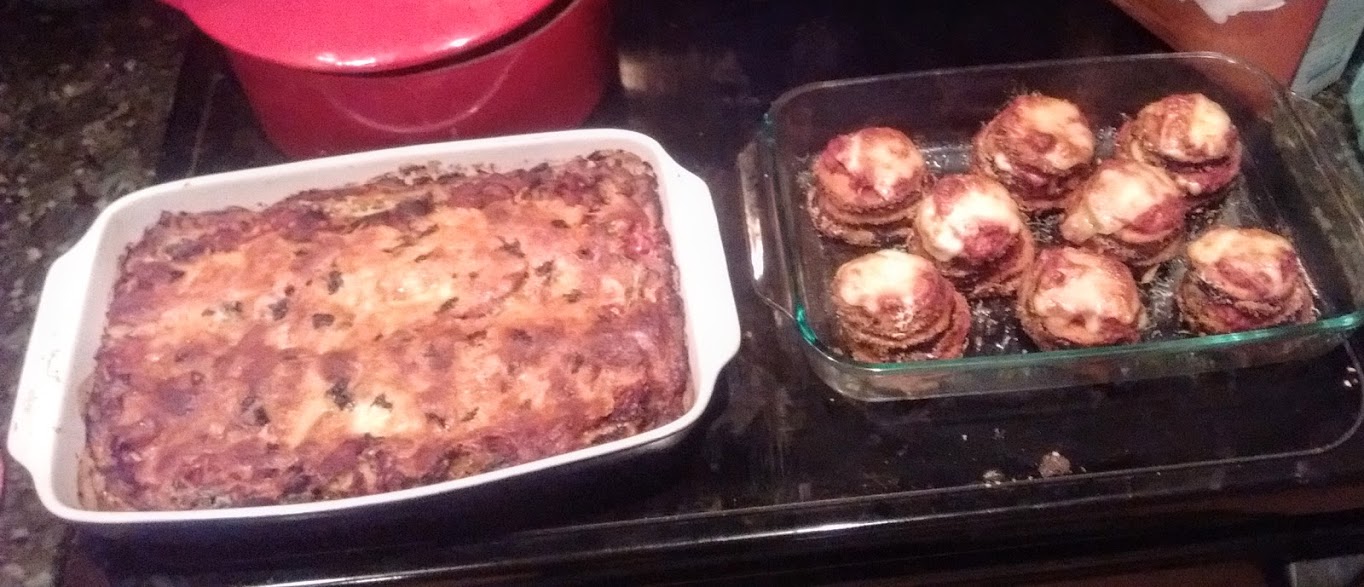 The judges:
Andrew Hodges
Sarah Hodges
Kristi LaMonica
Ryan Nudi
Brian Senesac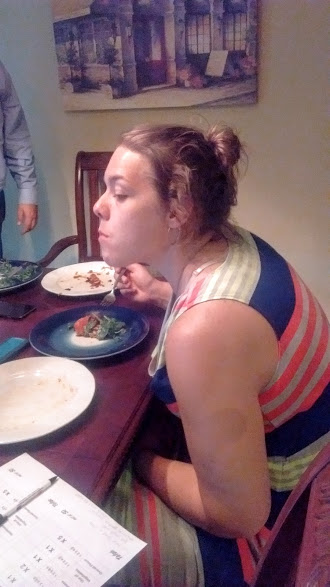 Judged on:
Presentation: 10%
Mouthfeel: 20%
Use of Vegetables: 10%
Heartiness: 10%
Overall Flavor: 50%
By "heartiness" we meant, does it stand up alone as a main dish course, the way a meat meal would?
Final score out of 250 points:
My lasagna: 233
Tara's eggplant: 237
Comments from judges:
On mine:
Three of the judges said I needed more salt.
One judge said I needed more seasoning in general.
"The vegetables were very pleasing."
"Excellent variety of vegetables."
"[Other than the salt] perfect lasagna! I didn't miss the meat!"
"Really, really good."
"Good amount of cheese – not too much – but would have liked a little more Parmesan on top."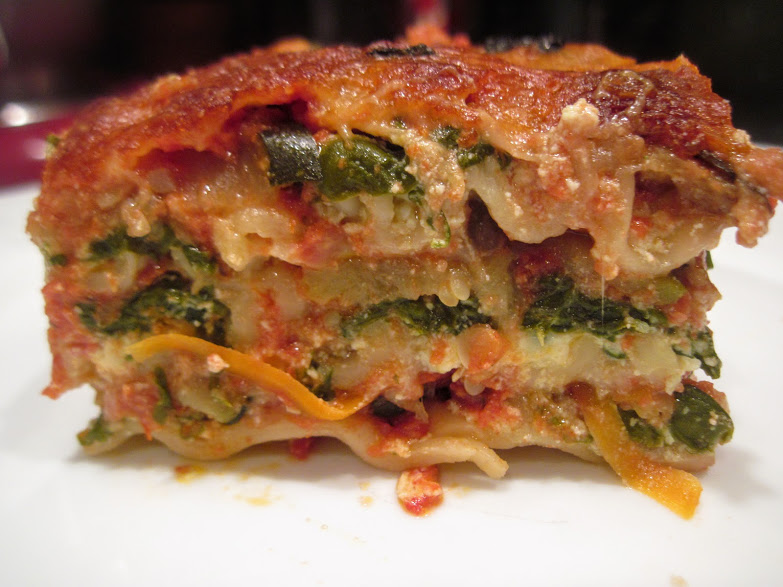 On Tara's:
"The eggplant was very satisfying overall."
"Very good – I would have liked a little more basil. I got a basil-y bite and it was extra delish."
"Confused by 'salad.'"
(Everyone else liked the salad.)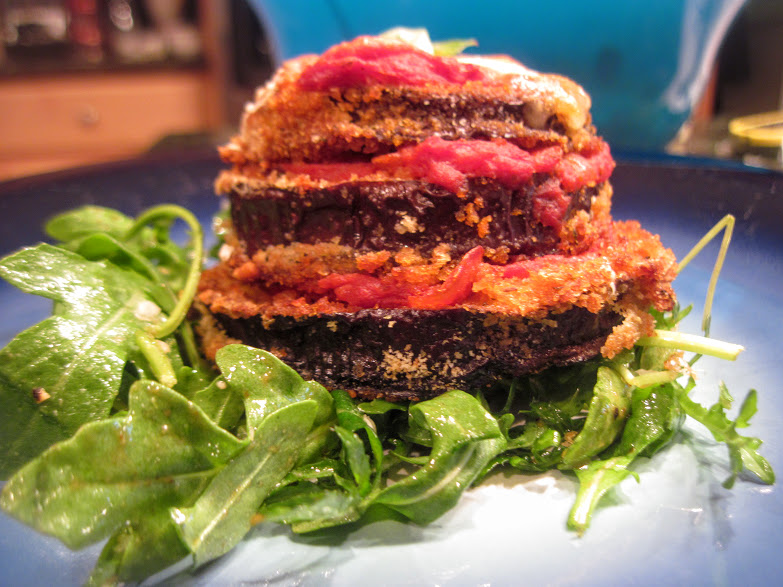 My own thoughts: I liked Tara's better than mine after trying it. Eggplant can be tricky, and hers was cooked and breaded perfectly. I think my dish was heartier, and obviously had a wider variety of vegetables, but if going by taste alone hers takes the cake.
Also, I enjoyed her salad – I ate it right in the same bites as the eggplant; in other words, it was indeed part of the whole dish, not just a side, or there for presentation purposes alone.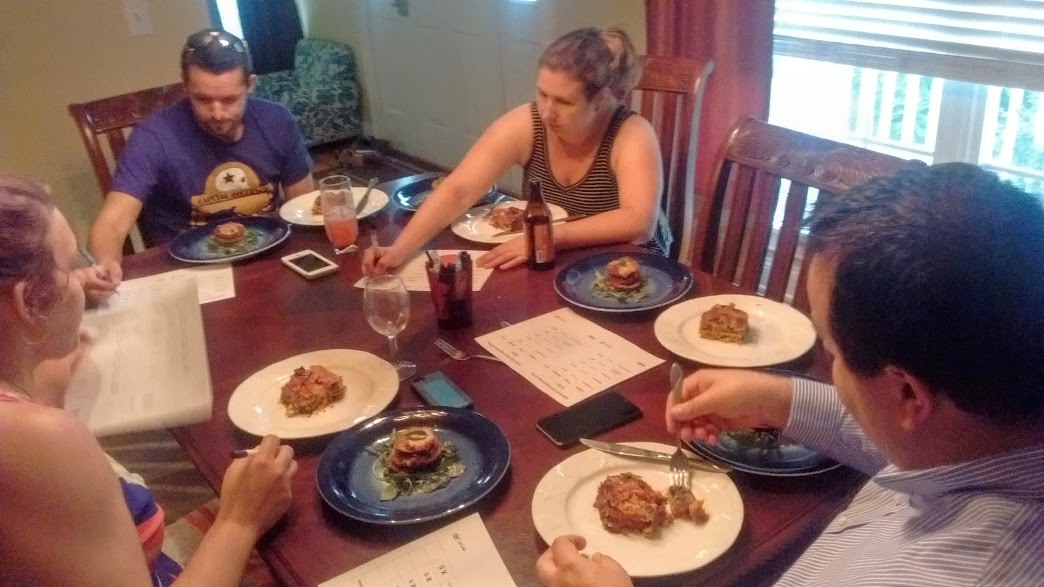 I adapted my recipe primarily from Food.com here, and AllRecipes.com here; I also looked at other recipes and researched vegetable lasagna in general. The main thing I learned is it is crucial to cook all the vegetables beforehand, otherwise they can make the dish too soggy.
One of my zucchinis and my tomatoes were from local farmers – local produce is virtually always better if you have the option.
This is what my recipe ended up looking like – warning, it's long.
Ingredients:
most of 1 medium eggplant, chopped
salt and pepper, and then more salt*
olive oil
2 small zucchinis, thinly sliced
1 small yellow squash, thinly sliced
1/2 tsp garlic salt
1/2 tsp lemon pepper
1/2 to 3/4 white onion, chopped
at least 2 tbsp garlic
1 cup chopped fresh mushrooms
3 small carrots, peeled thinly with a vegetable peeler
1 (11 oz) bag spinach, trimmed and torn into pieces
2 eggs
1 (16 oz) container ricotta cheese
most of a 28 oz can crushed tomatoes
3 tomatoes, crushed with hands; some large chunks
1 (8 oz can) tomato sauce
1 (6 oz can) tomato paste
about 1 tbsp red pepper flakes
at least 1/2 tbsp dried oregano
at least 1/2 tbsp Italian seasoning
about 1/2 tsp fresh thyme**
several leaves fresh basil, chopped
2 cups freshly grated mozzarella cheese
1/4 cup shredded Parmesan cheese
9 no-bake lasagna noodles
*Learn from my mistake! Salt to taste! Add more if needed!
**I wanted more thyme (and time!) but used as much as I had on hand.
Preheat the oven to 450 degrees F. Let eggplant sit in a colander for 30 minutes to get rid of excess moisture. When ready, transfer to a rimmed baking sheet, season with salt and pepper, drizzle with oil, and bake for 30 minutes, stirring halfway through. When they're done, set aside, and reduce the oven temperature to 350 degrees F.
In the meantime, season zucchini and yellow squash with garlic salt and lemon pepper. Cook them in oil in a skillet over medium-high heat; at the same time, cook the onions, garlic, and mushrooms in a second skillet, in oil, over medium-high heat. Partway through the onion mixture being cooked, add the carrots.
If you can really multitask, steam the spinach at this time as well – otherwise, after the other veggies are done. Combine spinach, eggs, and ricotta cheese in a large bowl; use a mixer to combine.
When the vegetables are all cooked combine in a large saucepan the canned crushed tomatoes, crushed tomatoes, tomato paste, tomato sauce, salt, red pepper flakes, oregano, Italian seasoning, thyme, and (some of the) basil. Taste the sauce and adjust seasonings as necessary (I did not do this and should have).
Add to the sauce: zucchini/yellow squash mixture, onion/garlic/mushroom/carrot mixture, and eggplant. Reduce heat to low and simmer for 15 minutes.
Combine mozzarella and Parmesan cheeses in a bowl.
When ready to assemble, spread 1/2 cup of sauce on the bottom of a 9 x 12 inch baking dish. Layer: 3 noodles, 1/3 of ricotta and spinach mixture, 1/3 of remaining sauce, 1/3 of cheese mixture, in that order. Repeat layers two more times. Drizzle the top with olive oil and sprinkle chopped basil.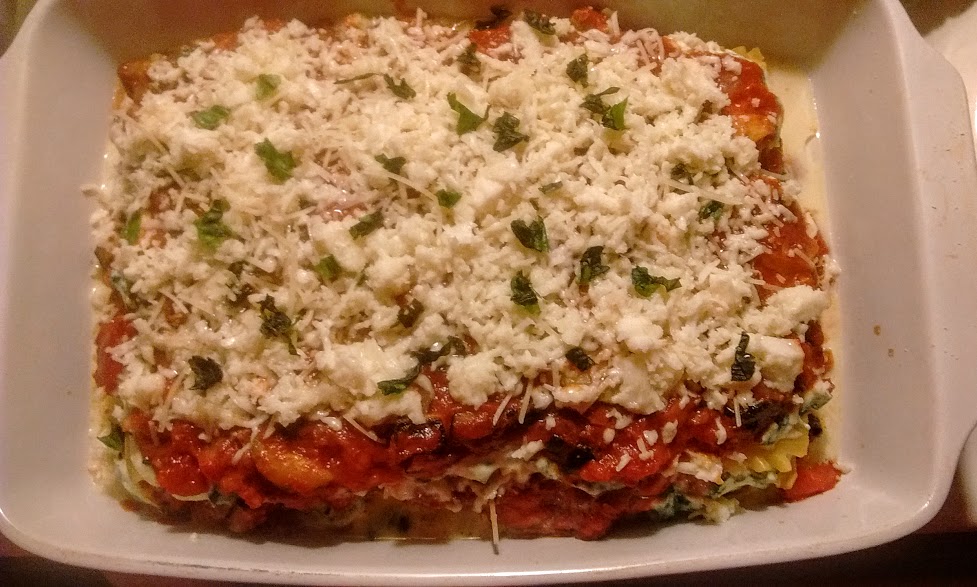 Bake for about 45 minutes (I overcooked mine in my trial run, and basically just watched it like a hawk until I could see clearly it was browning on top and done.)
The important thing with this recipe is cook all the vegetables beforehand. Spices I didn't really measure here, but estimated – add a little at a time and adjust as necessary when taste testing it.
This is one of those recipes that might not follow exact measurements and guidelines (except for the cheeses and spinach, do follow that). Cook the sauce to your own liking, as thin or thick as you like it, or use your favorite jarred pasta sauce. Vegetables you have on hand can be used, along with whatever fresh herbs or spices float your boat.
Although I needed more salt, and possibly more seasoning in general, I am pretty satisfied with my dish as a whole. With lasagna, I tend to include too much cheese, get the layers uneven, etc., and I felt like none of that happened – it had a great consistency, and the plethora of vegetables didn't make it too soggy or weigh it down.
Also – I made this the night before. It really does taste better the next day.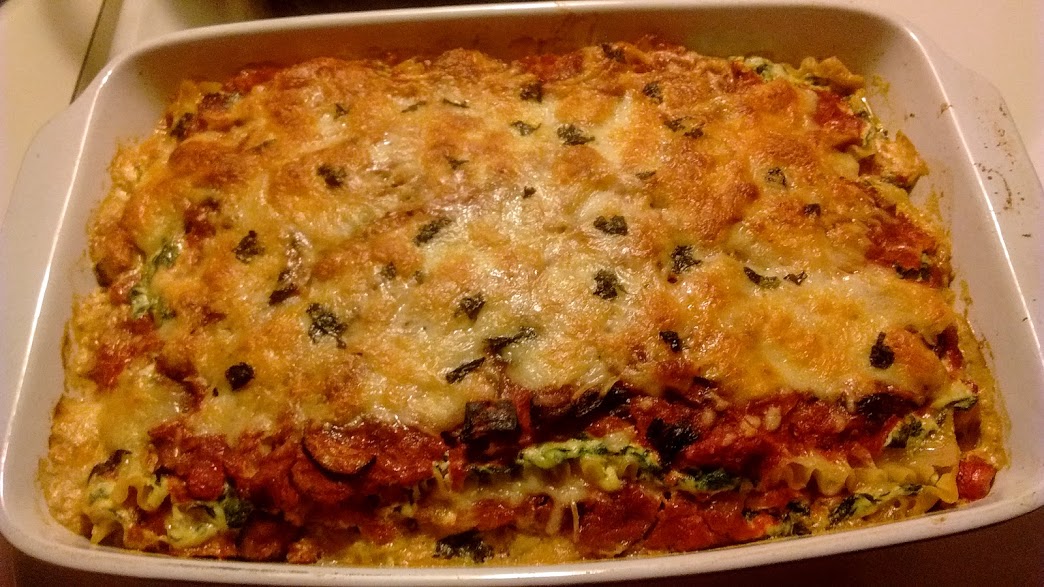 With Tara's dish – it was technically eggplant Parmesan, but it was stacked all pretty-like as if it was eggplant Napoleon, which I thought was neat.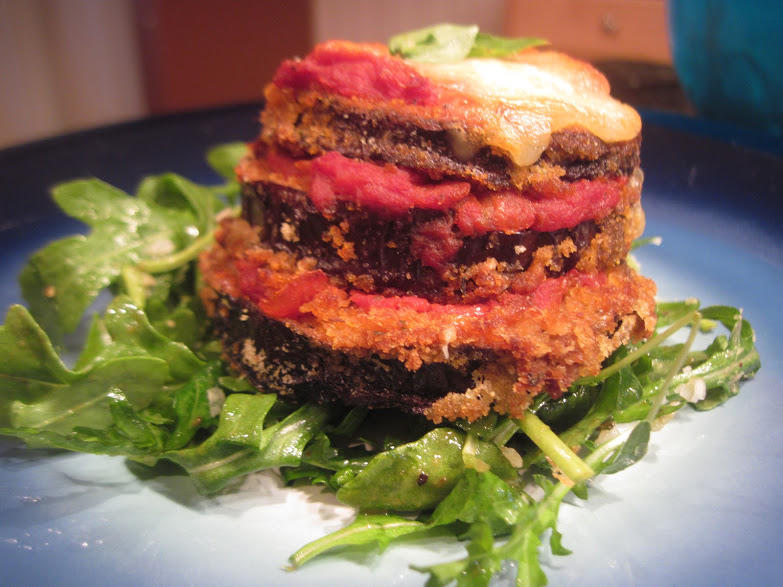 Tara adapted her dish from the following recipes: the eggplant recipe was adapted from 12Tomatoes.com, but she baked instead of fried the eggplant, as shown on MarthaStewart.com, and the tomato sauce is from Epicurious.com, with a few seasoning adjustments. Finally, the arugula salad comes from TastesLovely.com.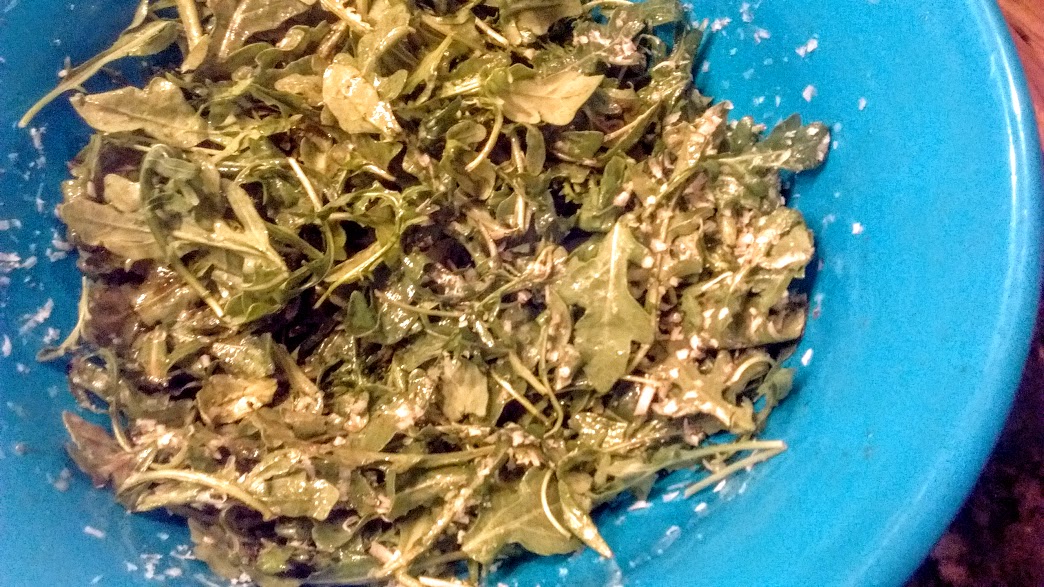 Up next game night: We've discussed Chinese food, bread, and chili – stay tuned to see what this crazy crowd cooks up next!